Cessna 400 Specifications
Cessna 400 Corvalis TT
The Columbia 400/Cessna 400 Corvalis TT is a fixed-gear, low-wing, general aviation (GA) airplane made of composite materials and equipped with a "glass" cockpit and a turbocharged piston engine. The 400 evolved from the normally-aspirated Columbia 300, which was derived from the Lancair ES homebuilt plane.
Cessna 400 Corvalis TT History
From the mid-1980s to the mid-1990s, multi-million-dollar lawsuit judgments against GA manufacturers prompted them to restrict their efforts to only developing new business aircraft. As a consequence, the demand for homebuilt airplanes greatly increased.
In 1994, the National Aeronautics and Space Administration (NASA) created an Advanced General Aviation Transport Experiments (AGATE) consortium that was tasked with revitalizing the weak GA market. NASA used a Lancair ES – an unpressurized Lancair IV – for AGATE research. The Lancair IV was a high-performance, single-engine airplane that set multiple records for its class.
A new Lancair company, Pacific Aviation Composites USA, was established in Redmond, Oregon in April of 1995 and subsequently renamed Lancair Certified (LC). In 2005, LC became the Columbia Aircraft Manufacturing Corporation, which was bought by the Cessna Aircraft Company in November 2007.
After completing the corporate acquisition, Cessna announced that the Columbia 350 and 400 would be renamed the Cessna 350 Corvalis and Cessna 400 Corvalis TT; or twin turbo. In 2009, Cessna then moved production of the two models from Columbia's Oregon plant to its facility in Independence, Kansas.
Cessna 400 Corvalis TT Certification
In April 2004, the Federal Aviation Administration certified Model LC41-550FG (LC Model 41, Continental 550 engine, Fixed Gear) under FAR 23 (the airplane's marketing name was "Columbia 400"). European Aviation Safety Agency certification was granted in February 2009.
Cessna 400 Corvalis TT Specifications
The Columbia 400/Cessna 400 Corvalis TT is equipped with a six-cylinder Continental TSIO-550-C engine that produces 310 horsepower at 2600 rpm. Spinning a three-blade, constant-speed Hartzell propeller, the powerplant yields a true airspeed of 199 knots (369 km/h) and a fuel flow of 24.7 US gallons (93 L) per hour at a cruising altitude of 11,000 feet (3,355 m).
Cessna 400 Corvalis TT Equipment & Features
Options for the Columbia 400/Cessna 400 Corvalis TT included speed brakes and an ice protection system called E-Vade which involved the use of electrically-heated graphite foil panels on the leading edges of the wings and tail. Early 400s had a Garmin 430 navigator/communications unit tied into an Avidyne pilot flight display, or PFD. A Garmin G1000 avionics suite was installed in later models. The airplane also has a built-in oxygen system.
Columbia 400/Cessna Corvalis TT Specifications:
Occupants: 1 pilot and 3 passengers
Length: 25.2 ft (7.7 m)
Wingspan: 36.1 ft (11.0 m)
Height: 9.0 ft (2.7 m)
Wing area: 141 sq ft (13.1 sq m)
Empty weight: 2,500 lb (1,134 kg)
Maximum takeoff weight: 3,600 lb (1,633 kg)
Useful load: 1,100 lb (499 kg)
Total fuel capacity: 106 US gal (401 L)
Maximum speed: 235 KTAS (435 km/h)
Range: 1,107 nm (2,038 km)
Service ceiling: 25,000 ft (7,600 m)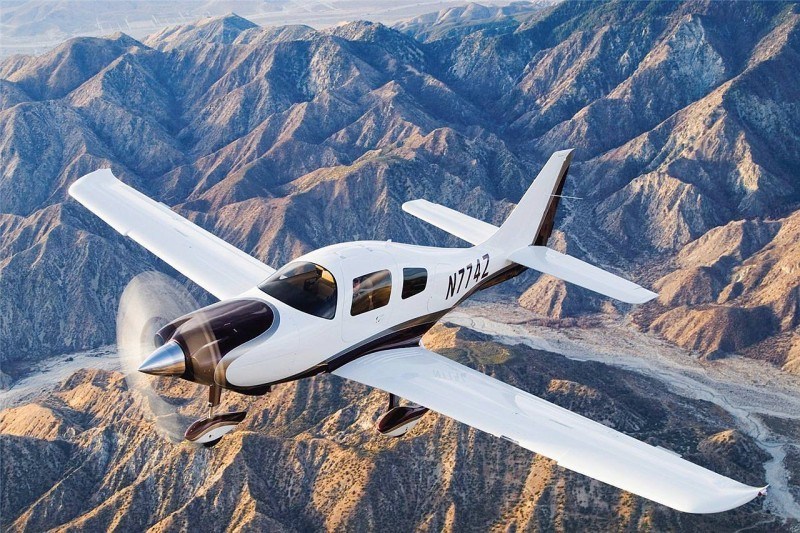 Contact us today for more information.