A Pilot's Review of the Cessna Caravan CE-208
High Performance Aviation
A Pilot's Review of the Cessna Caravan CE-208
Brandon Ray, ATP, CFI, CFII, MEI, Gold Seal, Master Instructor
The Cessna Caravan is an iconic airplane, easily recognizable by its high-wing design, PT6 turboprop engine and suburban-of-the-sky demeanor. Like many pilots, there have been occasions at air shows, when I would climb up (literally up the entry ladder) into the cockpit to see how the airplane looked from the pilot seat. As expected, it sits tall and has a commanding stance for a single-engine airplane. This summer I was fortunate to fly the Cessna Caravan on a demo flight at Conroe-North Houston Regional Airport (KCXO). First, I rode along as a passenger to get a feel from the passenger's perspective, and later, I flew the airplane from the front seat and experienced the handling characteristics for myself.
Who would be an ideal candidate for owning a Cessna Caravan?
There are obvious candidates like cargo delivery and skydiving operators who benefit from its massive amount of space at such a low operating cost. You've probably seen FedEx Caravans operating around the country hauling boxes and packages to their destinations. Some companies, like Cessna, use them as corporate shuttles to get people from one location to another at a low per-passenger cost. In addition to these customer scenarios, this airplane is well-suited to anyone looking to get in and out of unimproved airstrips… grass, dirt, and gravel runways won't hold it back.
I was told the story of a Caravan owner who also owns a King Air 350, and used both airplanes to transport passengers to South Texas for a hunting trip. The two airplanes departed at the same time. The Caravan would fly directly to the ranch airstrip, while the King Air would land at the nearest suitable airport, requiring multiple cars to drive passengers to the ranch. The King Air would beat the Caravan to the airport, but the King Air passengers wouldn't arrive at the ranch by car until 45 minutes after the Caravan passengers were already there. The Caravan is not known for its cruise speed, but it makes up for this in its versatility. It is also popular with missions and humanitarian aid organizations overseas.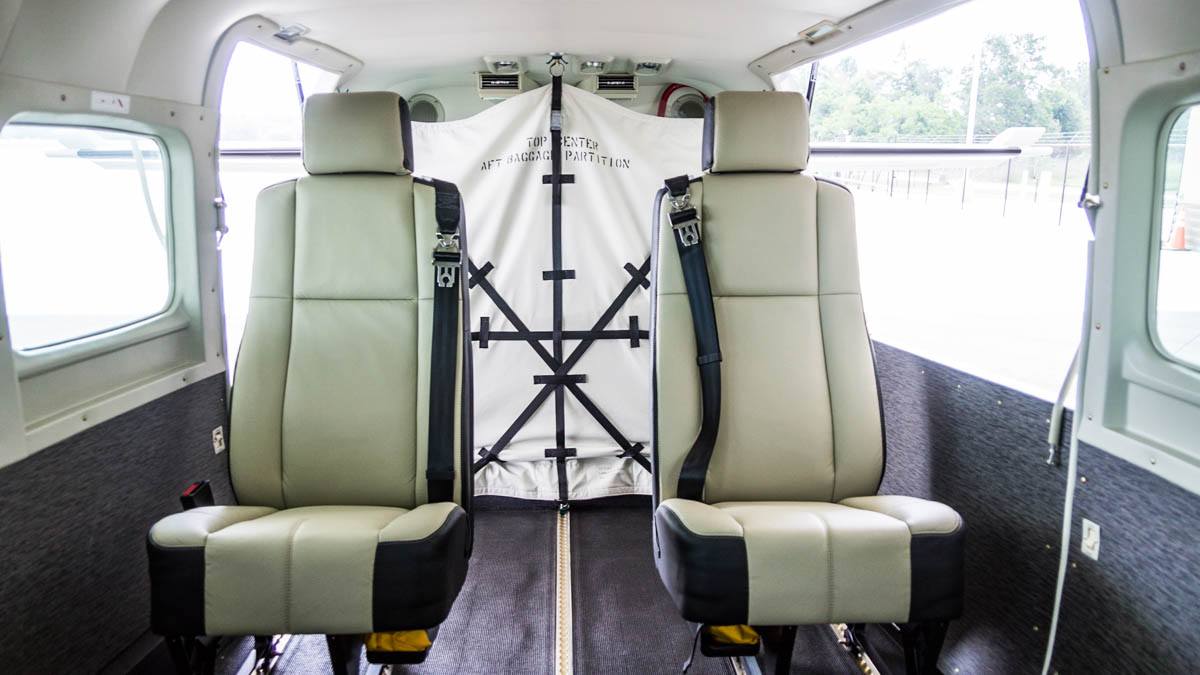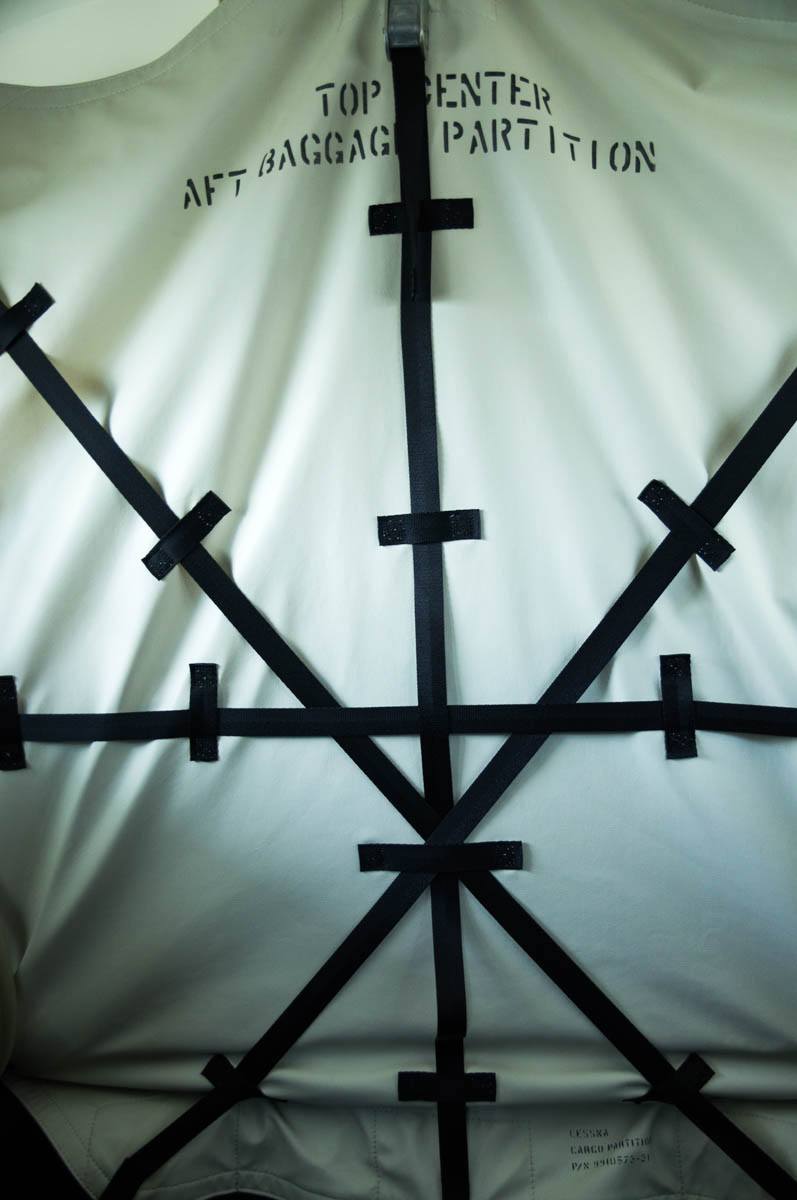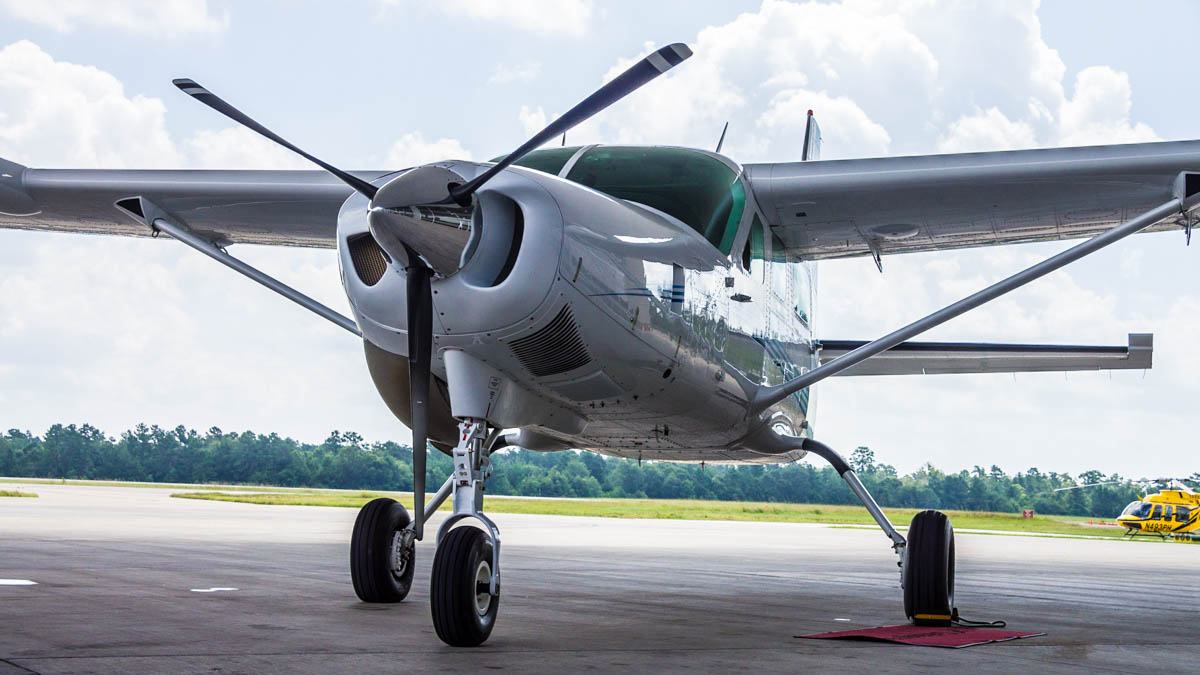 Cessna Caravan Engine
The Cessna Caravan has a 675 SHP Pratt & Whitney PT6A-114A turboprop engine with a three-blade, metal, constant-speed, full-feathering McCauley propellor. The engine access doors on the sides of the airplane create ample space for technicians to work on the airplane without busting their knuckles. The engine was designed with a very clean arrangement that appears easy to maintain and service. As you look at the intakes on the front of the engine, you will see the larger pilot-side intake which is for the engine air, and the smaller copilot-side intake which is used for the oil cooler.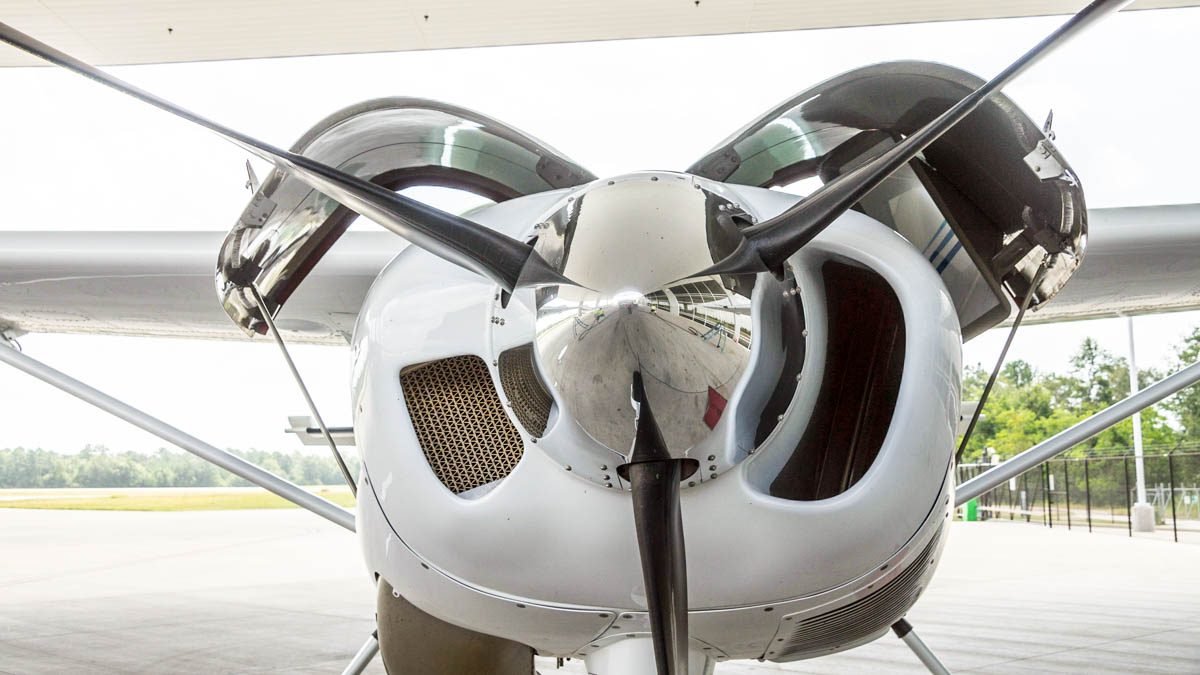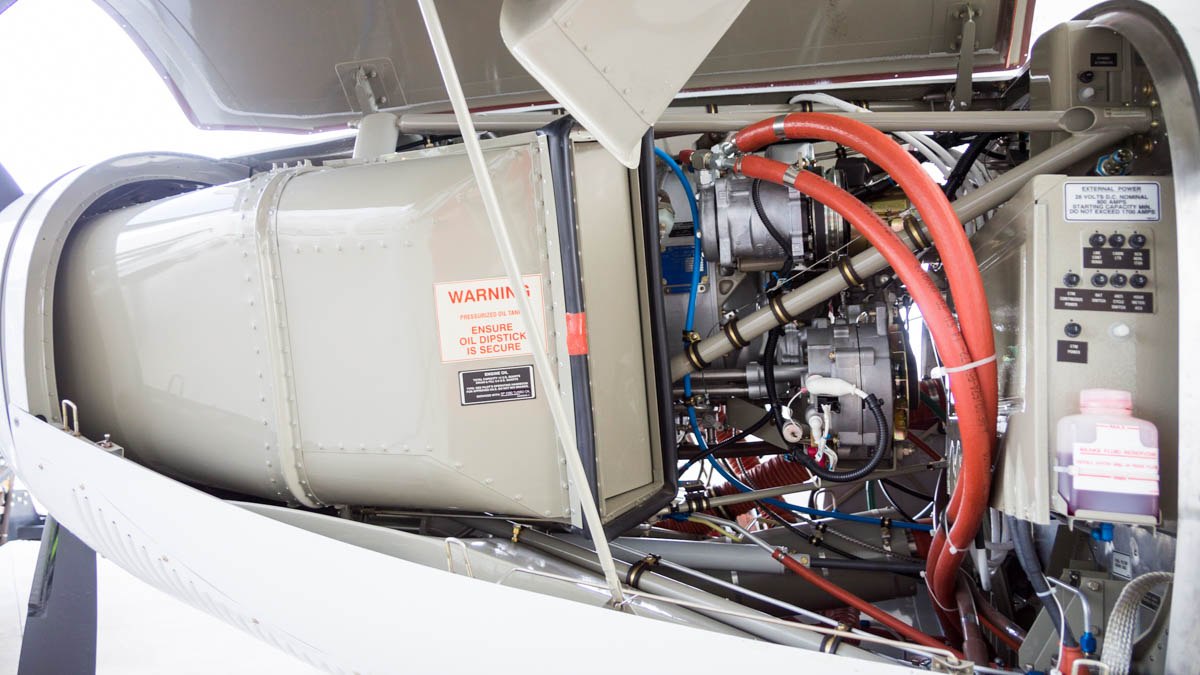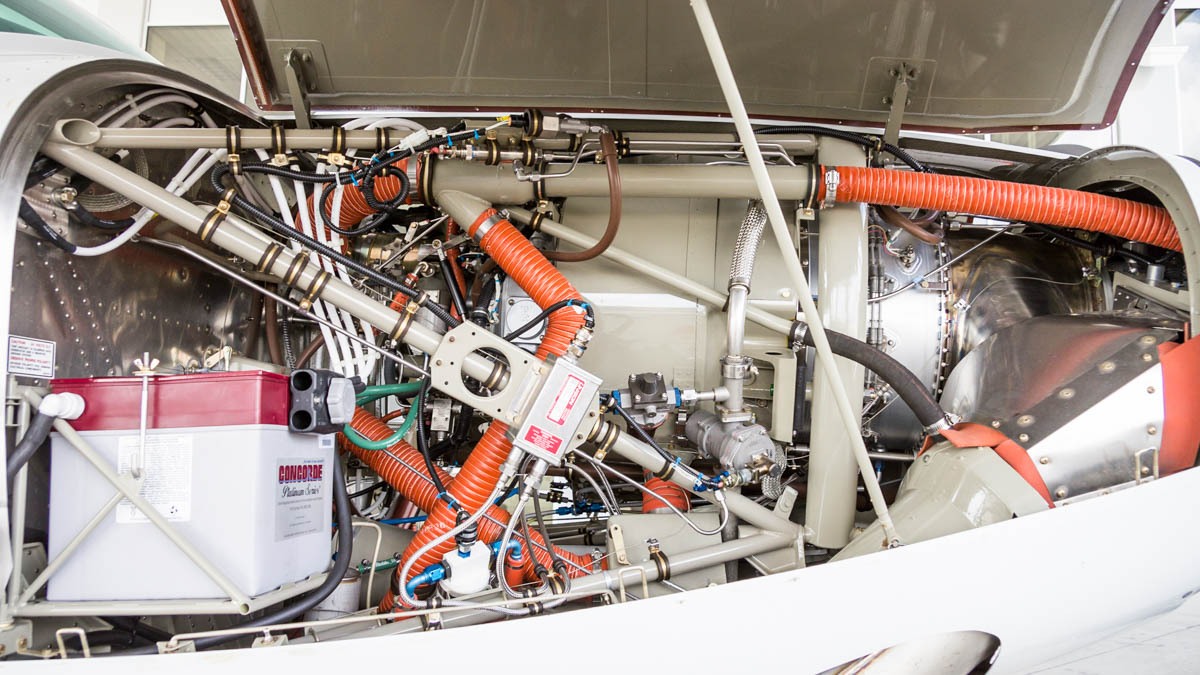 The fresh air intake is the dark triangular shaped area near the intersection of the wing strut and the wing. The long exhaust and the widely-spaced fresh air intakes help keep the exhaust fumes away from the fresh air intake, since 100% of passengers surveyed said they preferred a flight without carbon monoxide. I have been told that the Quest Kodiak has a fresh air intake at the tail of the airplane and dual exhaust coming from the engine, which makes it more challenging to keep the exhaust fumes out of the cabin.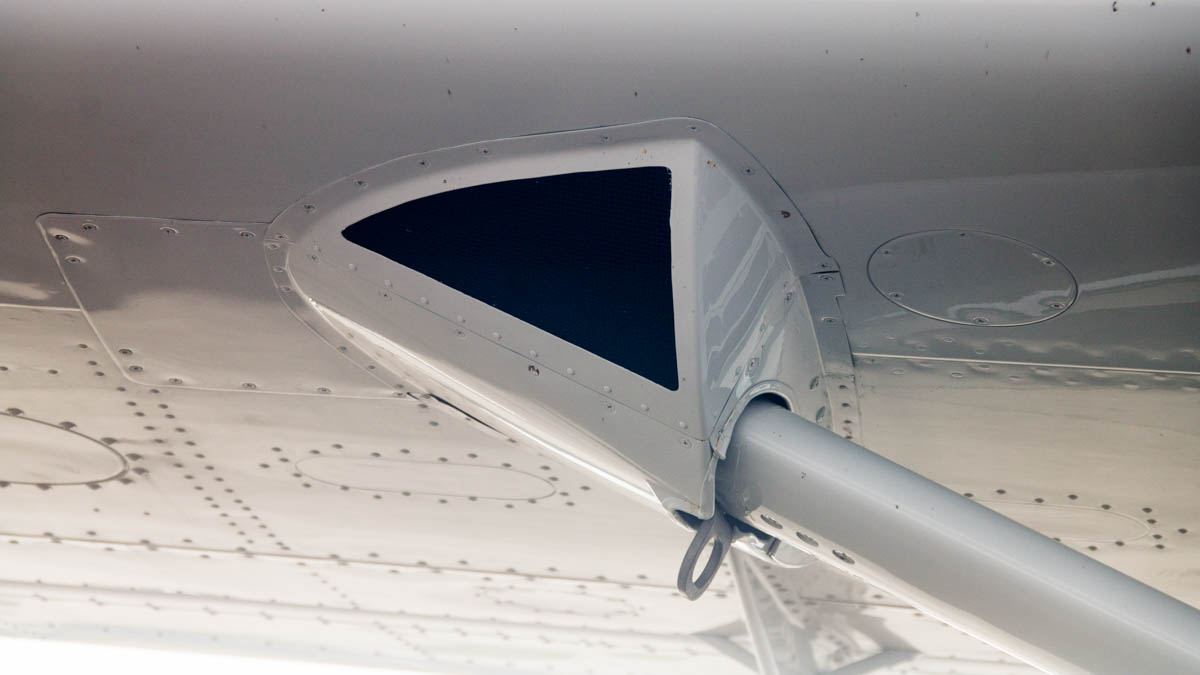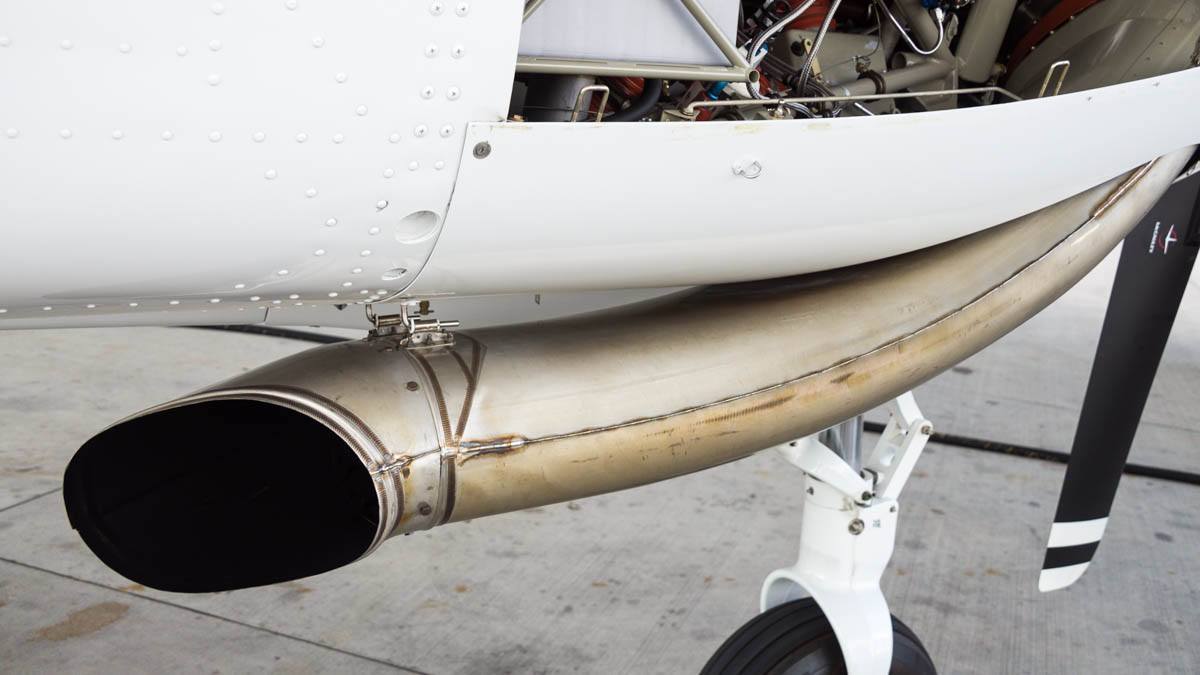 One of the added benefits of the single exhaust arrangement is that you can "hot load" the airplane. This means that, using proper procedures, you could keep the engine running, while items are loaded in the cargo side of the plane.
Landing Gear
The oleo nose strut is built to withstand heavy abuse from unfriendly runways, with a structural reinforcement extending rearward along the lower fuselage to provide additional support. The main gear is tubular spring steel, and designed to accommodate both paved runways and unimproved strips.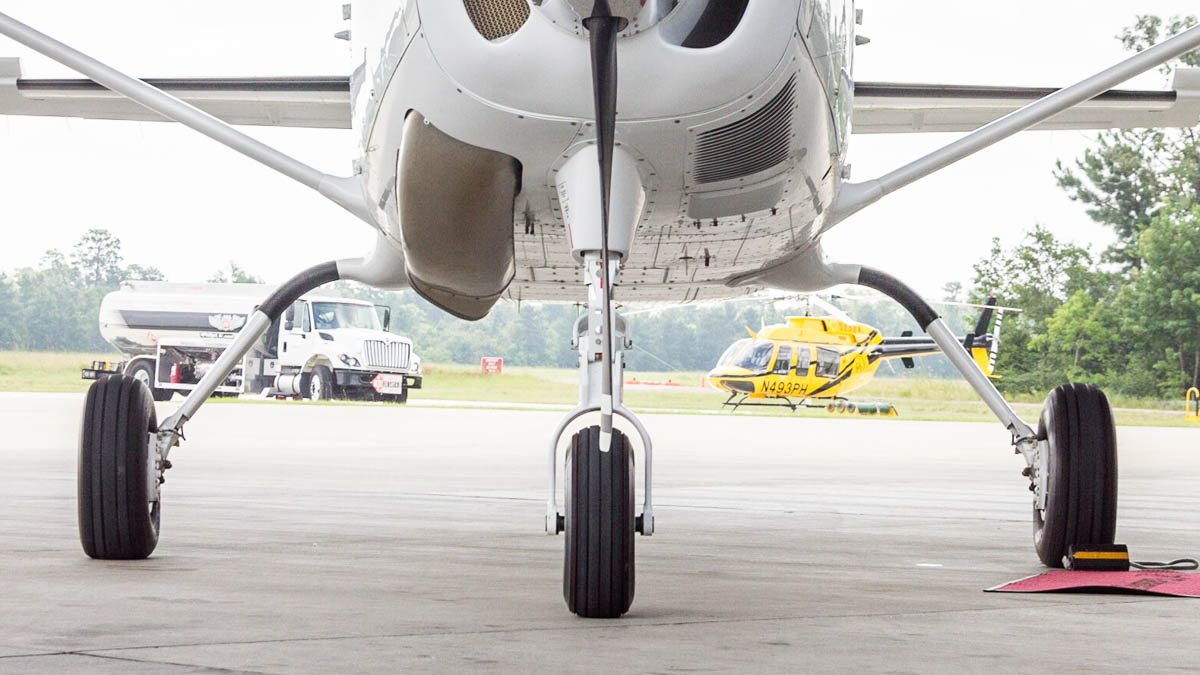 Tires
You have the option for larger tires if you plan to frequently operate on runways which aren't paved (29″ vs. standard 26").
Flaps & Ailerons
The flaps are large. They are 3/4 of the total wing length, making them very effective when extended. The ailerons, which are much shorter, are less effective, requiring the addition of spoilers to help improve roll effectiveness.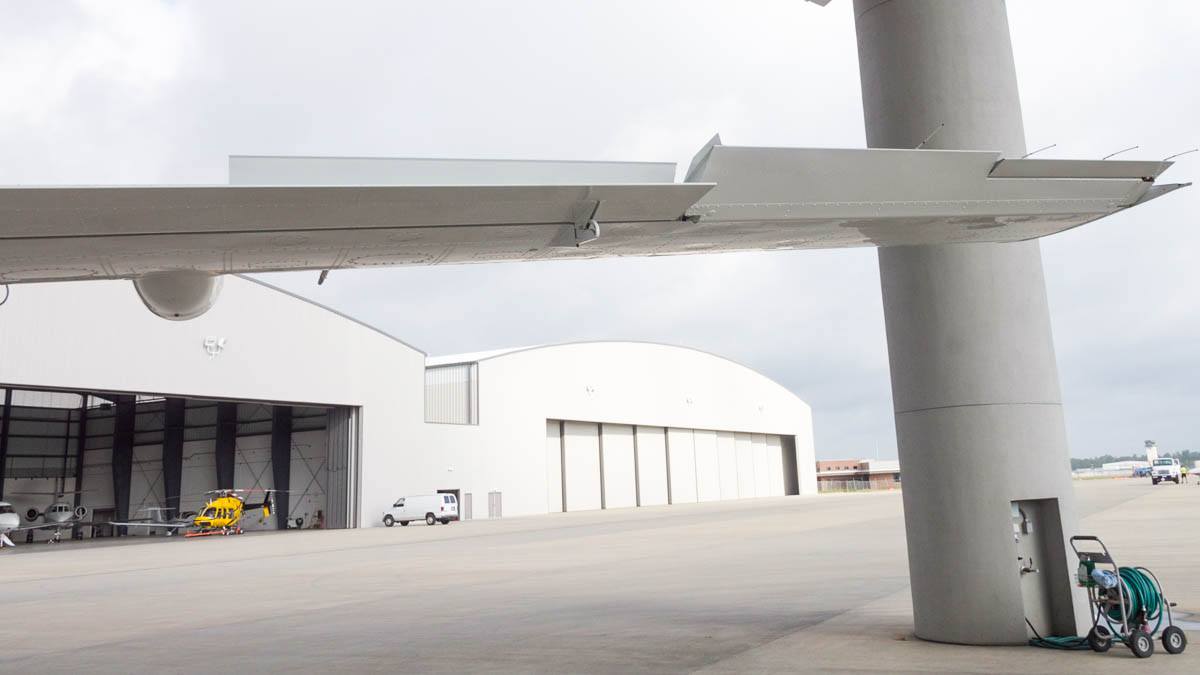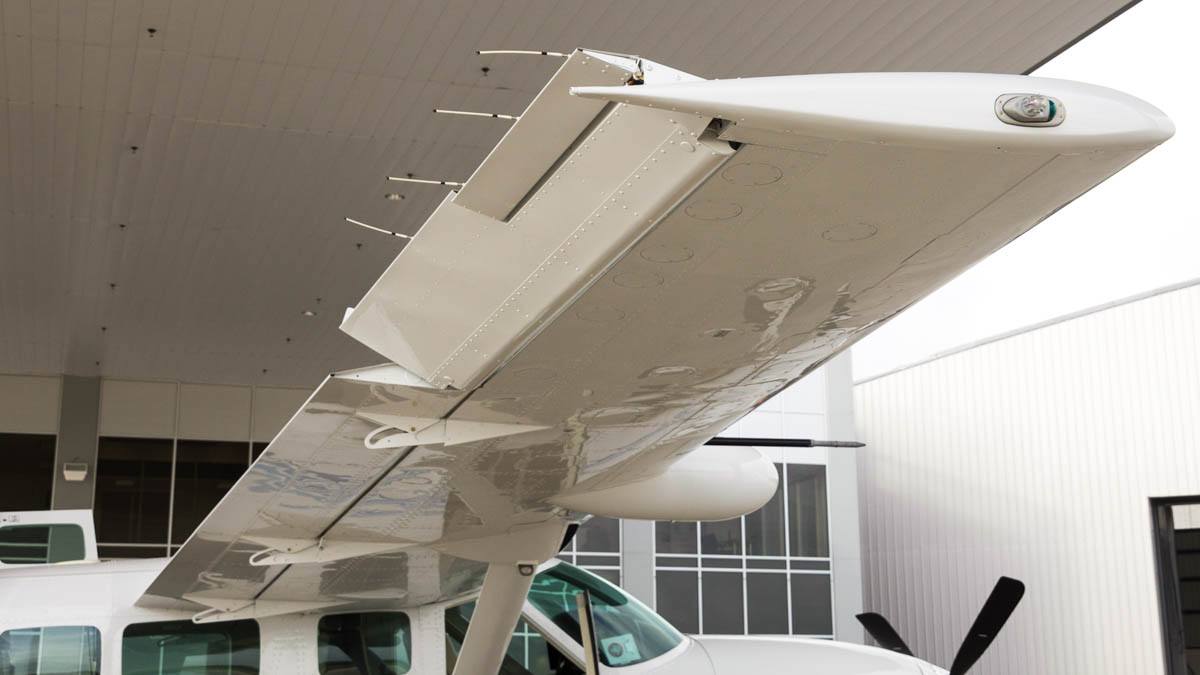 Flight into Known Icing
Caravans are available in both "hot spec" and "cold spec" variations. The cold spec airplanes would be equipped for flight into known icing, whereas the hot spec airplanes would leave out that option to maintain a higher useful load.
Doors
There are doors on both the pilot and co-pilot sides of the plane in both the front and the rear. The rear left door is a larger cargo door (up-folding and side-folding) which allows for easy loading of large items. The rear right door has steps that fold down for easy passenger entry and exit. There are also fold down steps for the front two doors allowing the pilot and copilot/passenger to step-up into the towering cockpit.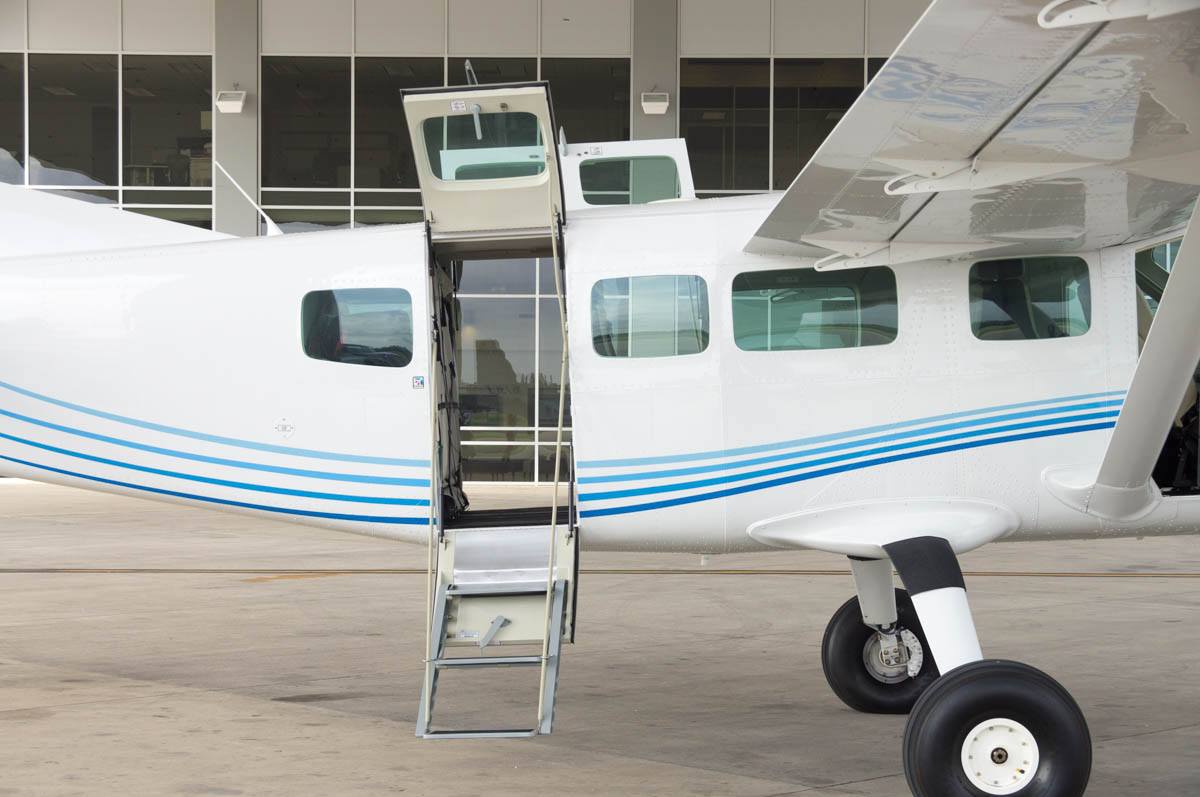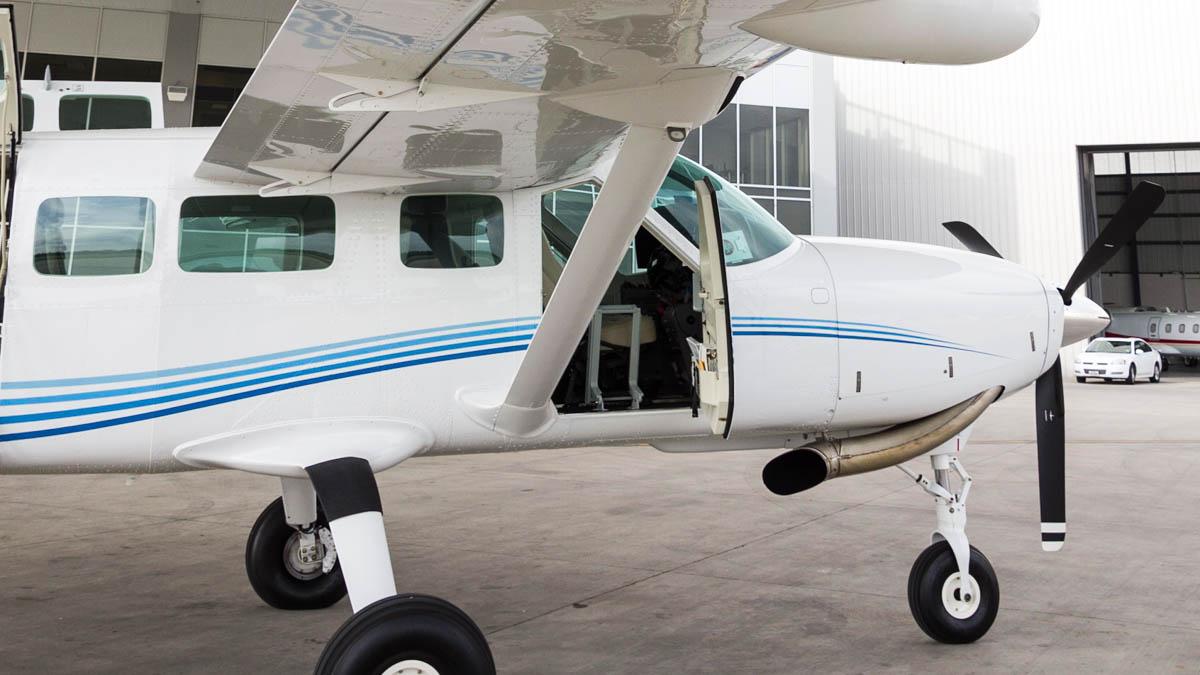 Interior Configurations
The Caravan has several interior configurations to suit the needs of the operator. With full length seat tracks, you can adjust the seats for maximum legroom or maximum cargo capacity, or some combination of both.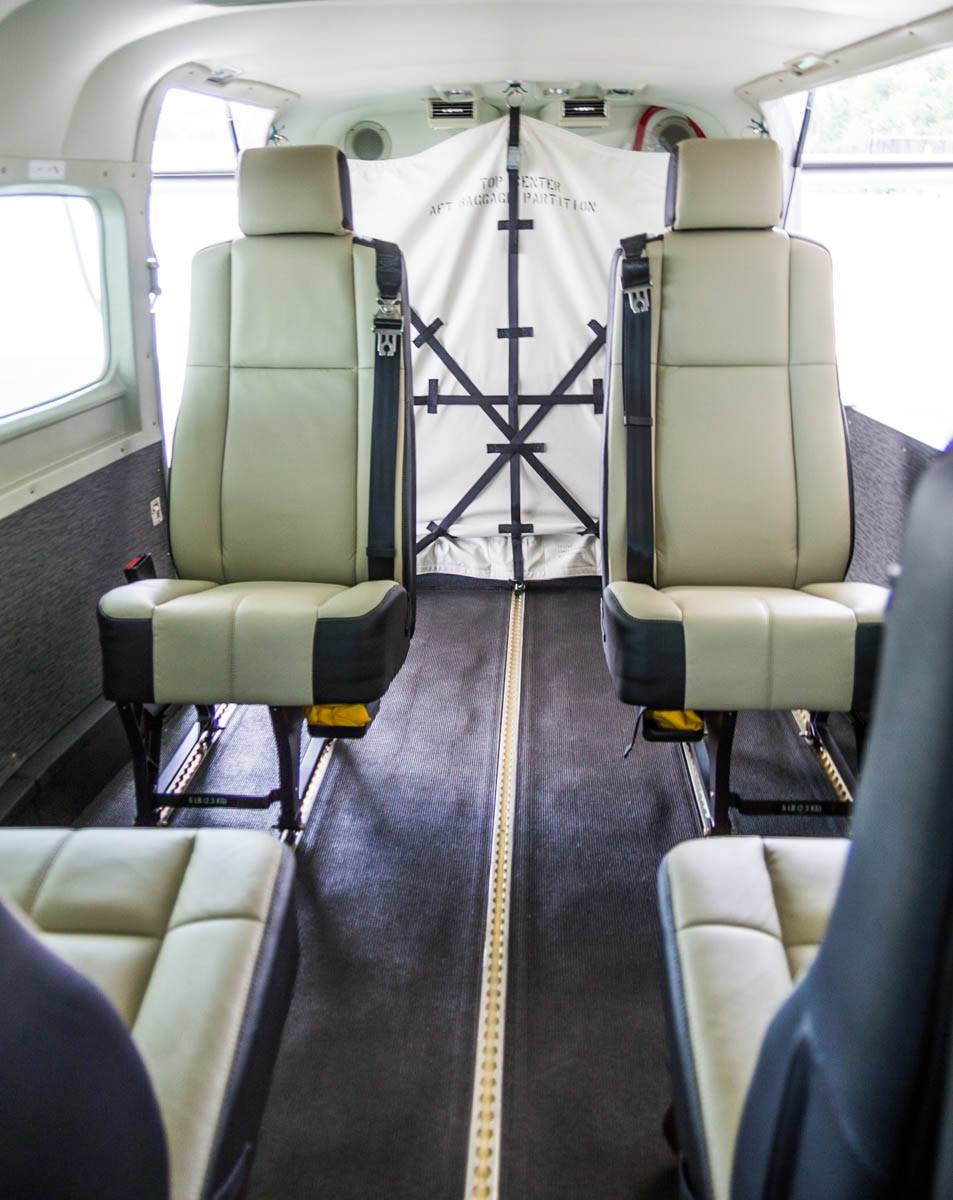 10 Commuter
Features 10 seats, all forward facing, with bench seats on one side and single seats on the other.
11 Club
A good corporate configuration, featuring a combination of forward-facing and rear-facing seats.
11 Commuter
11 seats, all forward facing.
Interior Packages:
The executive interior packages have several up-scale trim options to choose from:
Canyon – Black and Khaki
Savanna – Neutral Khaki
Oasis – Luxury blend featuring upgraded materials and plush leather seats. This would be my choice for an executive platform with superb styling. First class comfort with back country utility.
Interior Dimensions
Height 54 in
Width 64 in
Length 12 ft 9 in
Exterior Dimensions
Length 37 ft 7 in
Height 14 ft 11 in
Wingspan 52 ft 1 in
Wing Area 279 sq ft
Wheelbase 11 ft 8 in
Tread 11 ft 8 in
Baggage Area
The baggage area of the Caravan can hold a significant amount of gear. It has a 32 cu ft capacity with a maximum load of 325 lbs (320 lbs for the Grand Caravan). In addition, the entire cabin floor is load stressed, meaning that the cabin floor is suitable for supporting cargo, provided it is properly secured and not blocking the exits in case of emergency egress.
Pressurization
No. Pressurization is not an option on the Caravan, however, built-in supplemental oxygen is available for pilots and passengers.
Air Conditioning
Yes!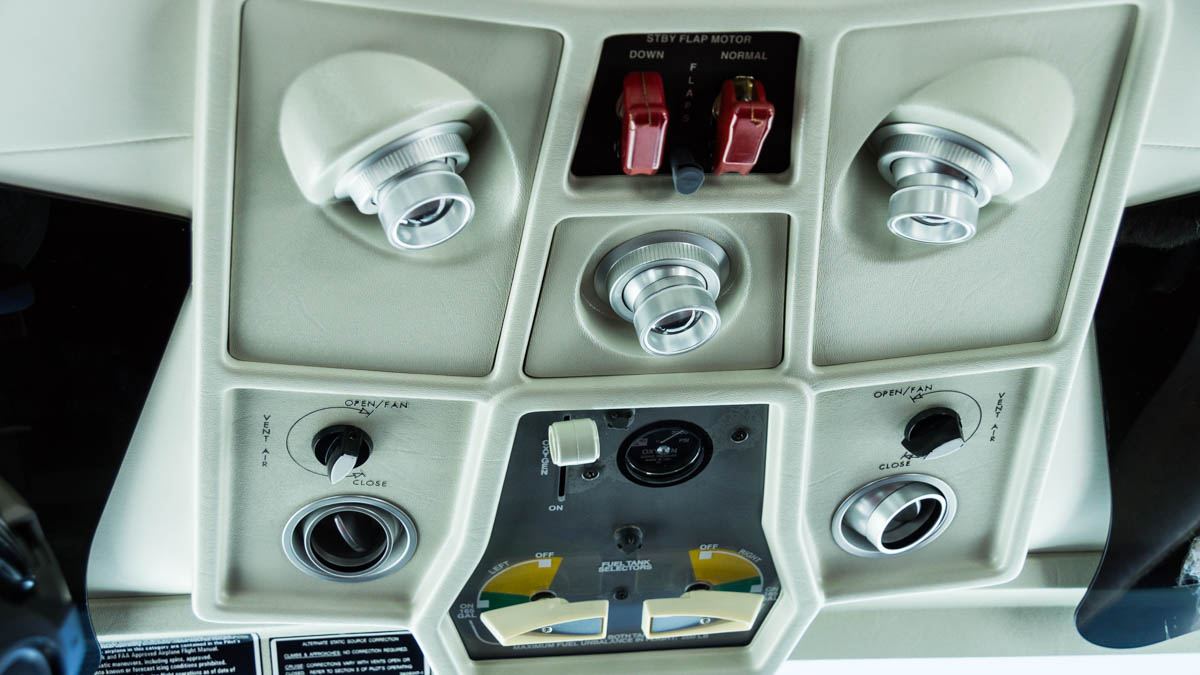 Redundancy
Dual AHRS
Dual ADC
Three Garmin Display Units (Two PFDs, One MFD)
Standby Instruments
Backup alternator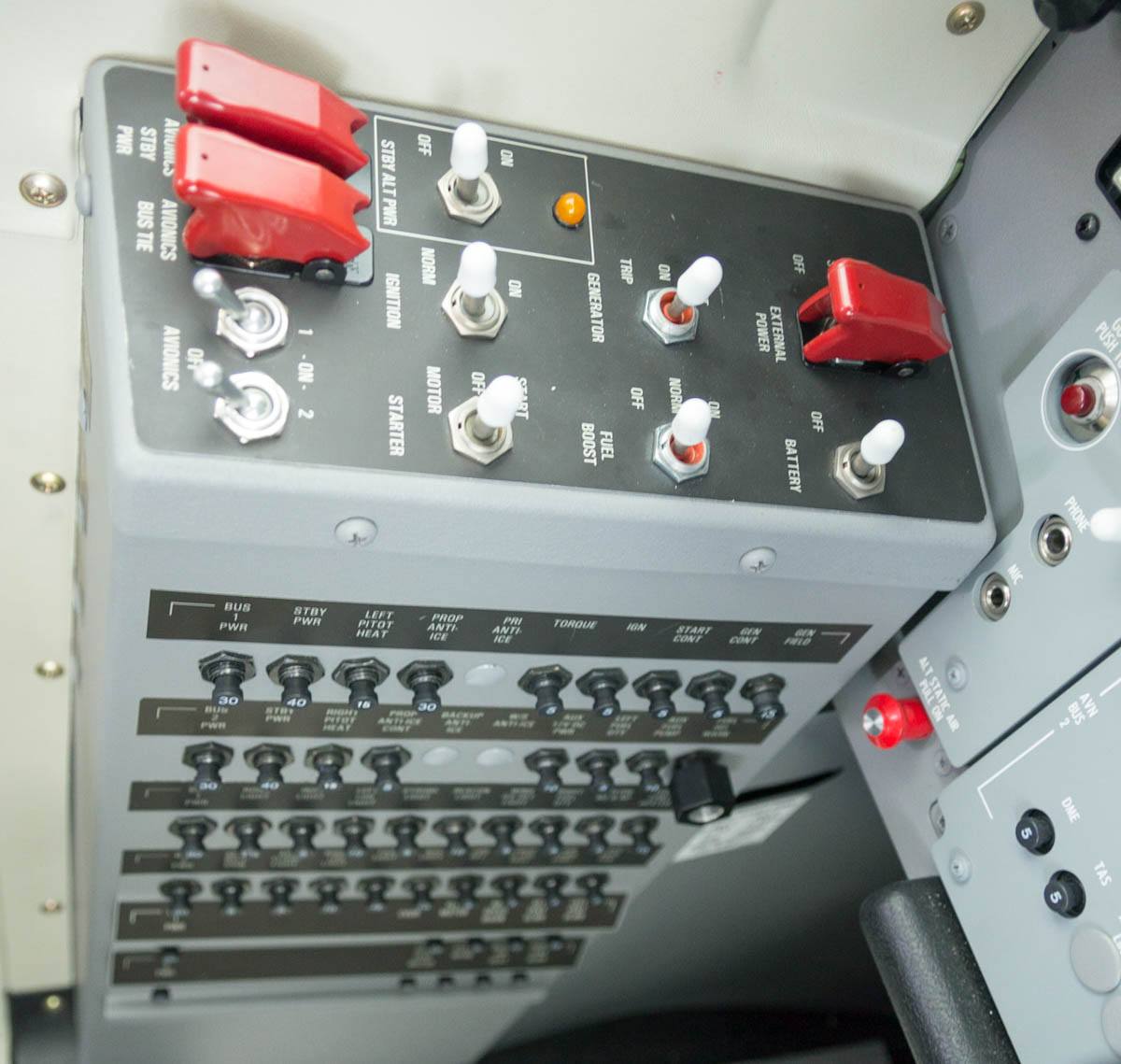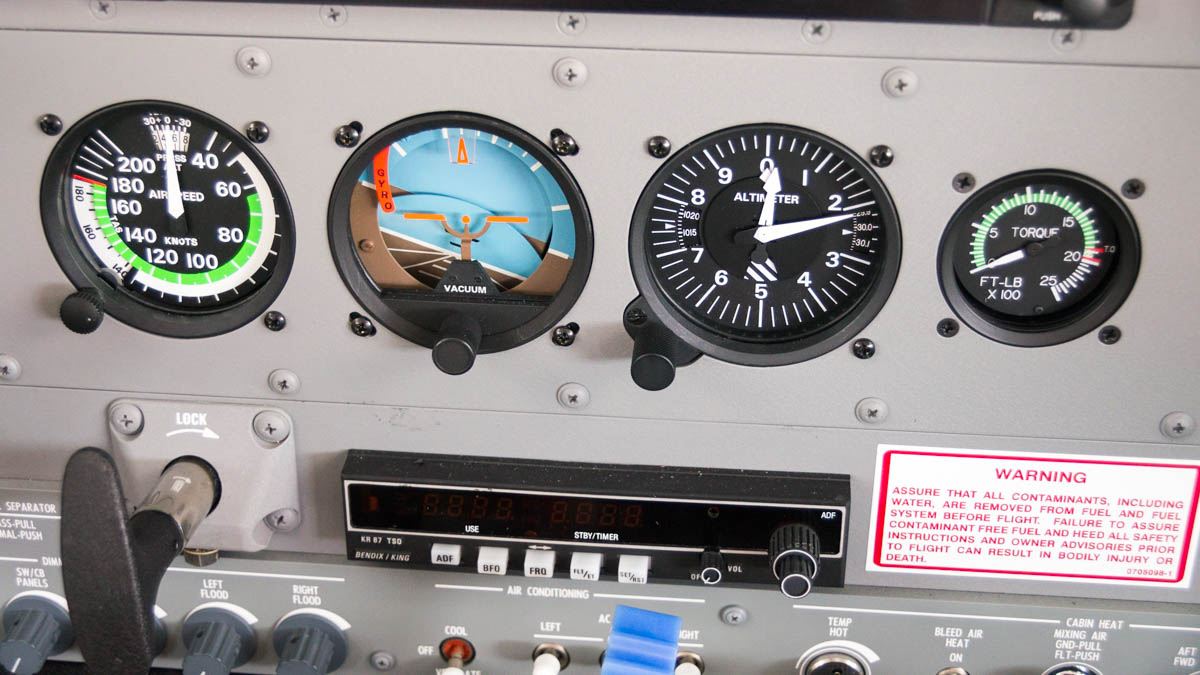 Avionics
The Caravan features the Garmin G1000 integrated flight deck, with the Garmin GFC700 digital autopilot.
GDU 1040A Pilot and Copilot Primary Flight Displays (PFD)
GDU 1040A Multifunction Display (MFD)
GDC 74A Dual Air Data Computer (ADC)
GEA 71 Engine/Airframe Unit
GRS 77 Dual Attitude and Heading Reference System (AHRS)
GMA 1347 Single Audio System with Integrated Marker Beacon Receiver
GTX 33 Mode S Transponder
Garmin Relative Terrain/Obstacles
Garmin FliteCharts-capable
Garmin SafeTaxi-capable
KN-63 DME
Artex ME-406 2-Frequency (Non-Nav Interfaced)
ELT with Remote Switch and Monitor Light (Dorsal-fin Installation)
Avionics Cooling, (2) Cowl Deck Fans and (3) Display Fans
PA System with Aft-cabin Speakers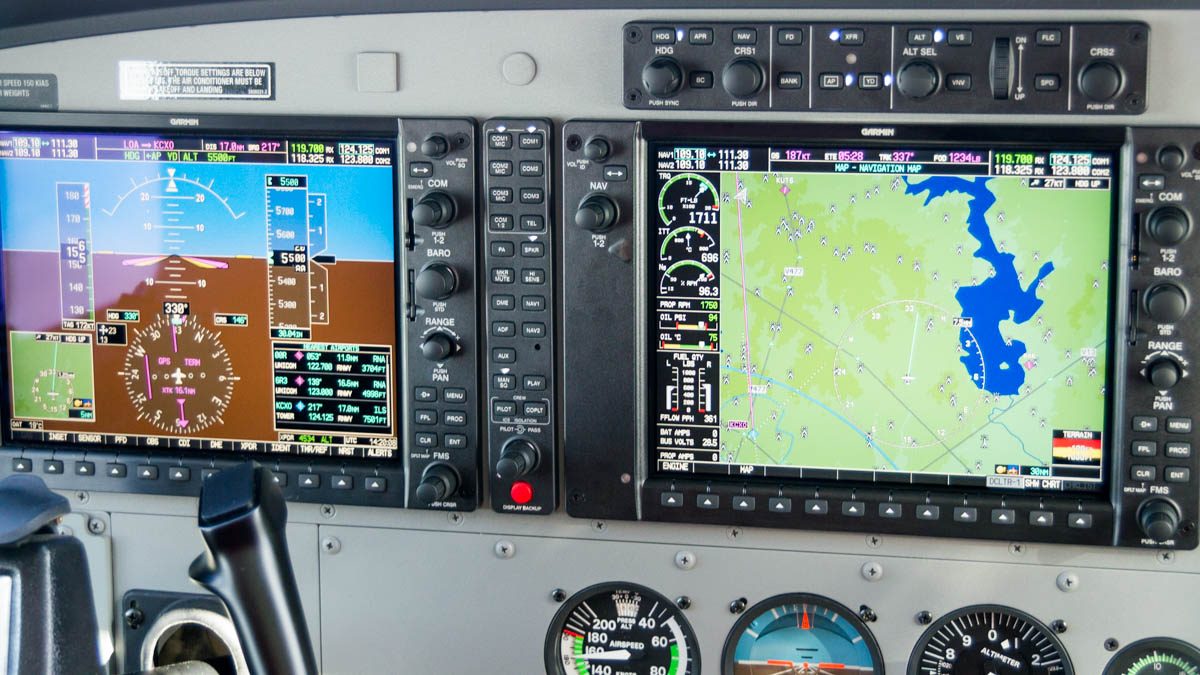 Cessna Caravan Weight and Balance
Max Ramp Weight 8,035 lb
Max Takeoff Weight 8,000 lb
Max Landing Weight 7,800 lb
Usable Fuel Weight 2,224 lb (332 gal)
Basic Empty Weight 4,730 lb
Useful Load 3,305 lb
Max Payload 3,070 lb
Full Fuel Payload 1,081 lb
Baggage Capacity 325 lb
Cessna Caravan Performance Specs
Max Cruise Speed 186 KTAS
Max Range 1,070 nm
Takeoff Distance 2,055 ft
Ground Roll 1,160 ft
Landing Distance 1,625 ft
Ground Roll 715 ft
Max Operating Altitude 25,000 ft
Max Climb Rate 1,234 fpm
Max Limit Speed 175 KIAS
Stall Speed 61 KCAS
Cessna Caravan Cruise Speed
How Fast is the Cessna Caravan?
This is a broad question with many variables. It will depend on the model, weight, configuration, temperature, and altitude. The airplane we flew, which did not have a cargo pod on the belly, would probably have a true airspeed of 170-175 KTAS at typical cruise altitudes.
Caravan vs. Grand Caravan EX?
While the aircraft I flew was the Caravan, anyone purchasing one should seriously consider upgrading to the Caravan's big brother, the Grand Caravan EX. The Grand Caravan is stretched 4 feet longer in length, has the same wing span, a wider wheel base, and a higher useful load. Here are some of the differences.
Grand Caravan Benefits:
More room – cabin is 4 feet longer
More power – PT6A-140 at 867 SHP vs. PT6A-114A at 675 SHP
Faster – 195 KTAS vs. 186 KTAS
Faster Climb Rate – 1,330 fpm vs. 1,234 fpm
Additional configuration options (10 Commuter, 13 Club, 13 Commuter, 14 Commuter A, 14 Commuter B)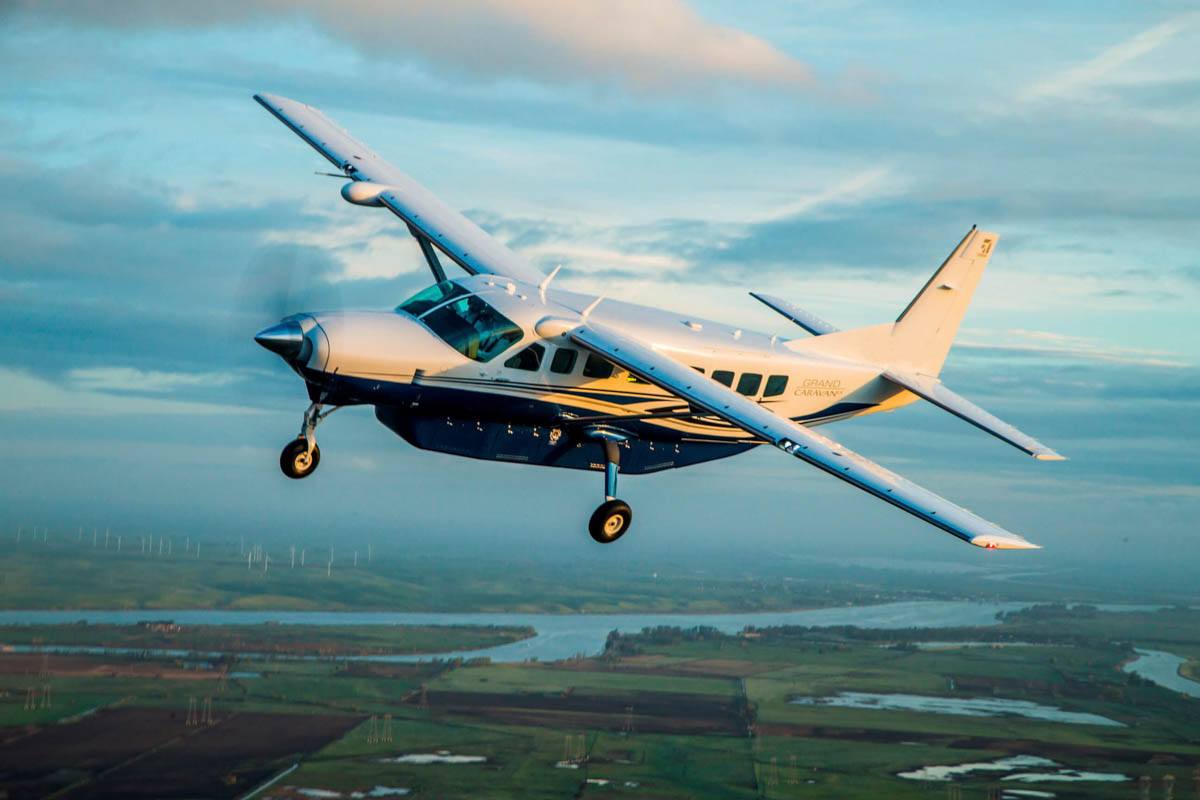 (Image courtesy of Textron Aviation)
Caravan Benefits:
Shorter ground roll for takeoff and landing
Better range – 1,160 nm vs 964 nm
Lower cost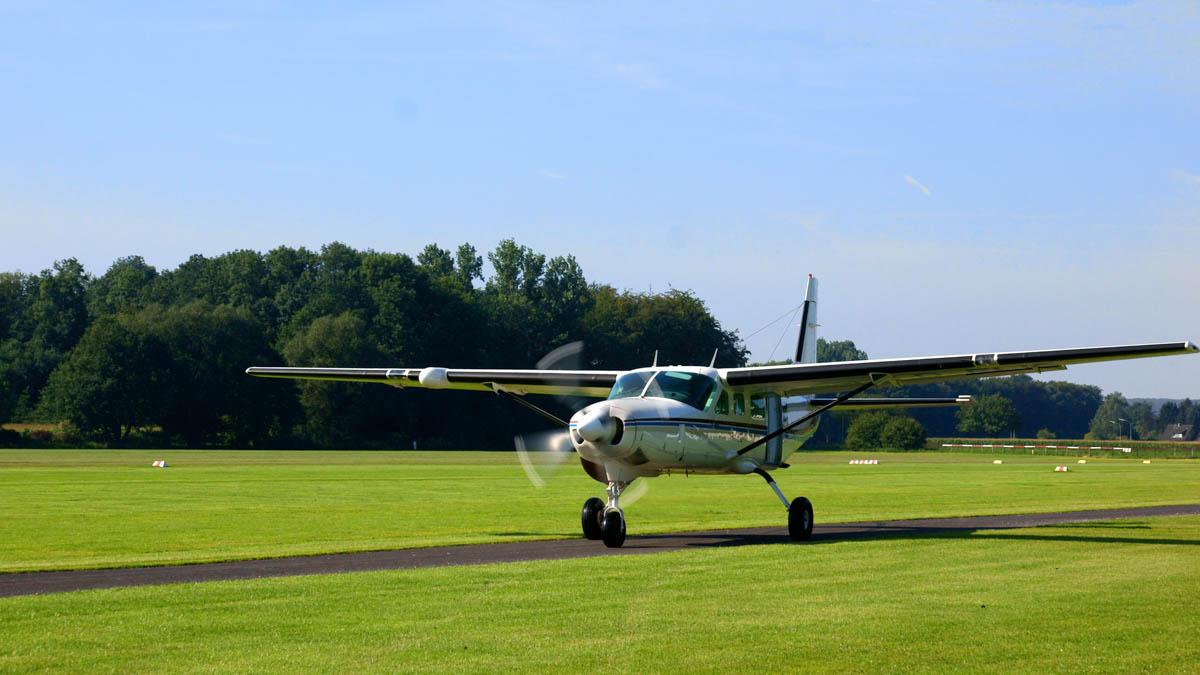 Amphibious Cessna Caravan
Both the Caravan and Grand Caravan can be equipped with floats to make one of the most fun amphibious airplanes on the planet. Of course, you'll need to plan on additional weight and cost, with reduced performance and load carrying capability. Who's ready to head to the Caribbean?

Taxiing the Cessna Caravan
The airplane feels just like it looks… like a large, high-wing Cessna. One nice difference, however, is that the nose wheel will caster up to 90˚ if needed for tight turns.
When taxiing a turboprop, you have the option of moving the power lever backwards into "Beta" mode. BETA stands for "below effective thrust angle". Beta mode is the strange sound you hear when King Airs are taxiing in from a flight. You hear the sound of the props change periodically as though the blades are slapping the air at different angles. That's exactly what's happening. Beta mode is sort of like neutral gear for a turbo prop. It puts the propeller blades where they are basically feathered and producing neither positive or negative thrust as you taxi. This is an additional tool as you taxi to avoid getting too fast, without needing to ride the brakes. Typical taxi procedure is as follows:
Add a little thrust to get rolling (or just release the brakes and let it roll).
Move power lever to Beta as you coast down the taxiway.
Use brakes as needed.
Operational Tip: Once you come to a stop (holding short, running checklists, etc.), go ahead and move the power lever out of Beta and into idle thrust. This helps keep airflow moving backwards, and minimizes the chance of pulling debris up into the prop. It also helps disperse the airplane exhaust.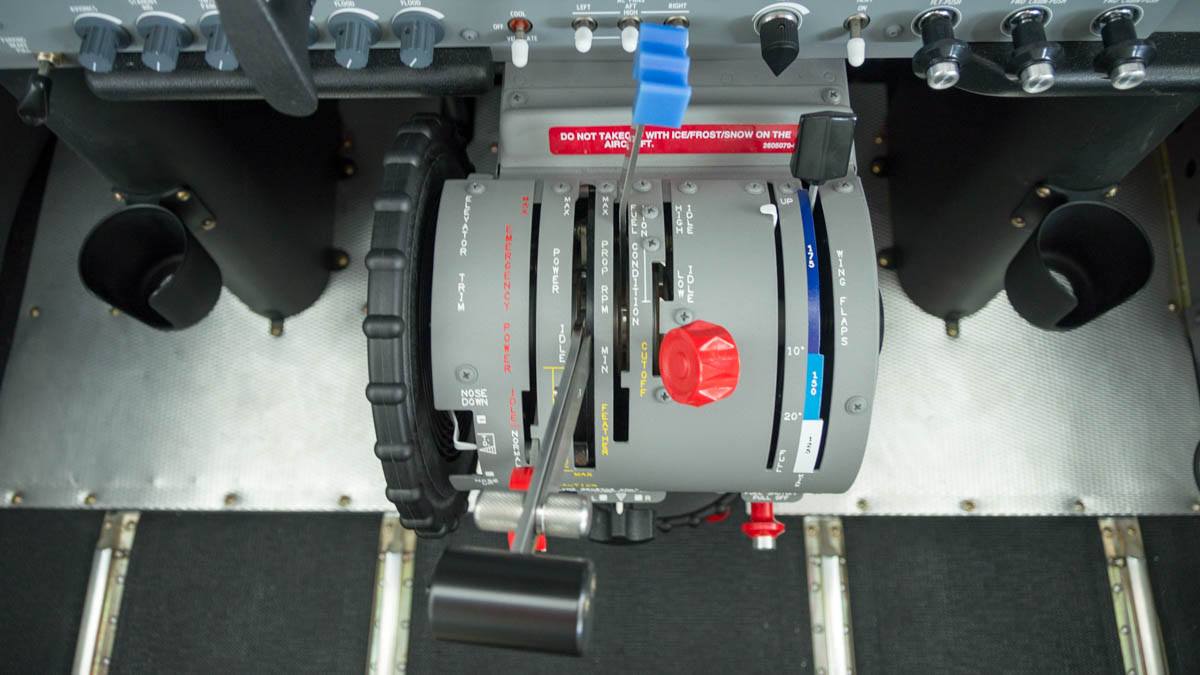 Flying the Cessna Caravan
As I observe the first takeoff from the back seat, I'm impressed by the effortless short takeoff distance. Power is added to a specific torque setting, the airplane lunges forward and it comes off the runway just as easy as any high-wing Cessna with a little back pressure and some right rudder to counteract the left turning tendencies. It climbs out at a comfortable speed of 120 KIAS. It doesn't feel fast, but it maintains a steady climb rate of approximately 700 fpm. We climb through the clouds to get VFR on top and reach 5,000 feet. One of our instructors is in the pilot seat during the first demo while the demo pilot talks him through the power settings and speeds. This is his first time in control of a turbine-powered airplane, and yet it feels as though he is comfortable with the Caravan's handling and engine controls in just a matter of minutes. It flies just like a Cessna 206, he says. The high-wing, stable-flying, truck-of-an-airplane is a natural transition for anyone who has flown a high-wing Cessna before.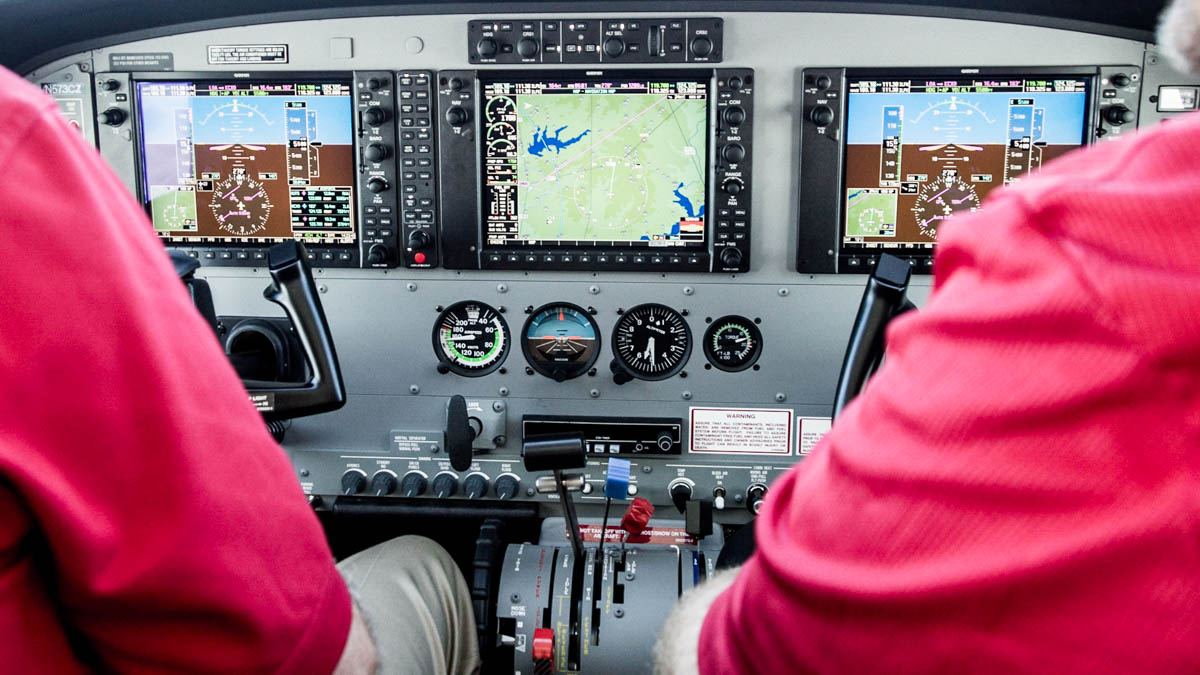 The engine has a hydromechanical fuel controller which automatically meters the fuel based on the torque requested from the power lever. No leaning required. While we are above the clouds, we engage the Garmin GFC700 Autopilot and it commands the airplane to maintain the precise instructions set by the pilot. We set up an approach back into Conroe-North Houston Regional Airport, get a clearance to descend IFR and watch as the 3-screen Garmin G1000 and GFC700 autopilot fly the approach effortlessly. Power is reduced on approach to control airspeed. The electronic charts, flight director, synthetic vision, and moving maps give us an abundance of situational awareness tools at our disposal. We can see obstacles, terrain, and any traffic in the area as we begin our descent into the airport environment. As we reach short final, the autopilot is disconnected and the rest of the approach is hand flown. The yaw damper may be left on until just prior to landing to help minimize any yawing motion felt in the back of the plane. (Just don't forget to disconnect it before landing, or it will interfere with directional control on touchdown.)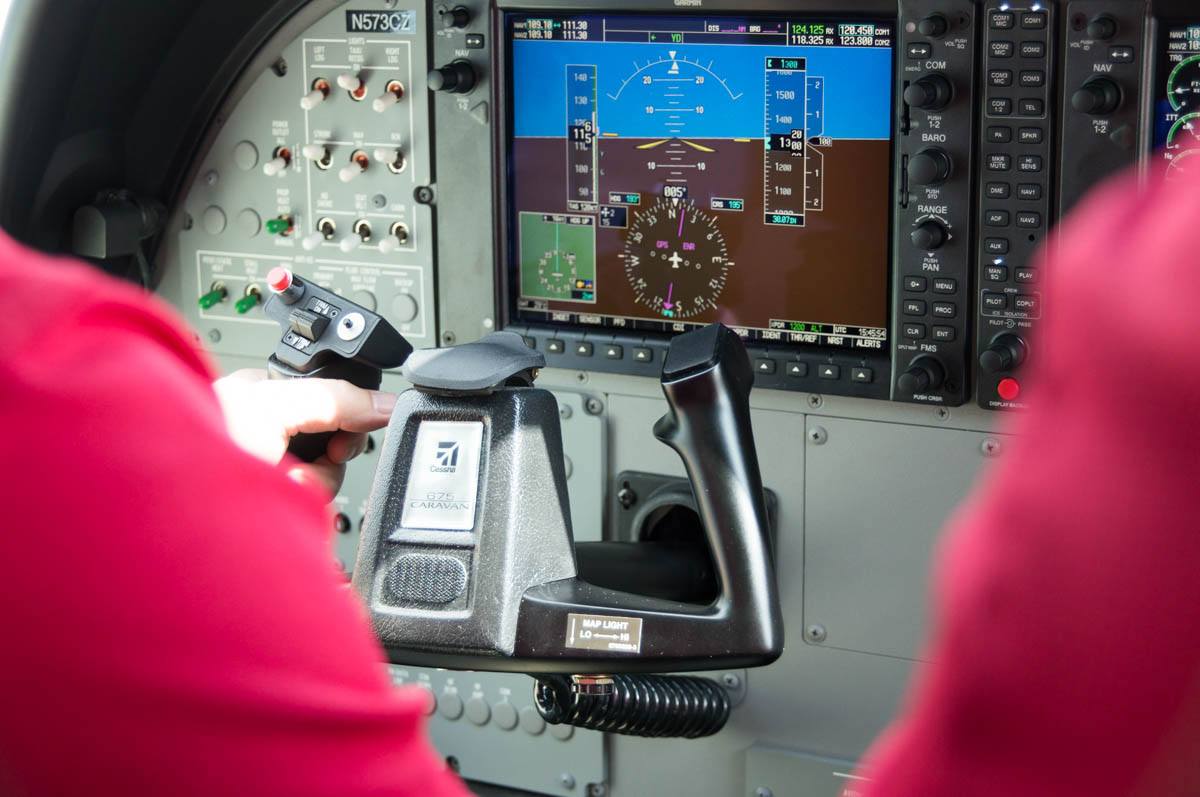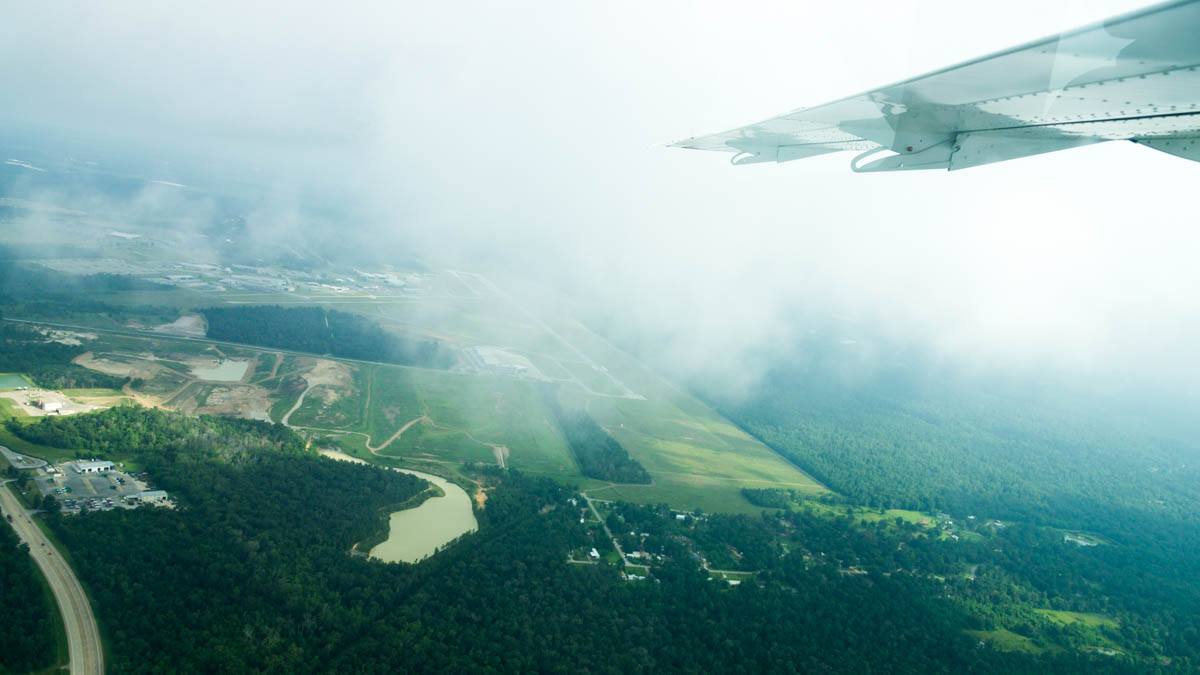 Approach speeds (approximate):
120 KIAS on approach
110 KIAS on long final
75-80 KIAS short final / "over the fence"
The approach speed is comfortable, and the landing is as expected, although you have to get used to the taller gear if you usually fly a smaller airplane. The power management during landing is slightly different from most of the piston and jet aircraft I am used to. Normally, when my mains touch down, I make sure my power is at idle. For the Cessna Caravan, however, you want to keep a small amount of power until after the touchdown, otherwise it may set down firmly if you chop the power all at once (so I'm told). Even though I theoretically knew what was supposed to happen, the muscle memory I've built from flying other airplanes was more difficult to overcome than expected. With a few more landings, or some simple chair flying practice, I expect it would improve. Regardless, the airplane lands easily, and stops incredibly fast. This airplane has reverse thrust, which changes the pitch of the propeller blades to generate negative thrust to aid in stopping the airplane. After touchdown, you pull the throttle up and back over a detention position and into the reverse thrust position and then the airplane dramatically slows. Add in some braking and you have a remarkably short field landing distance.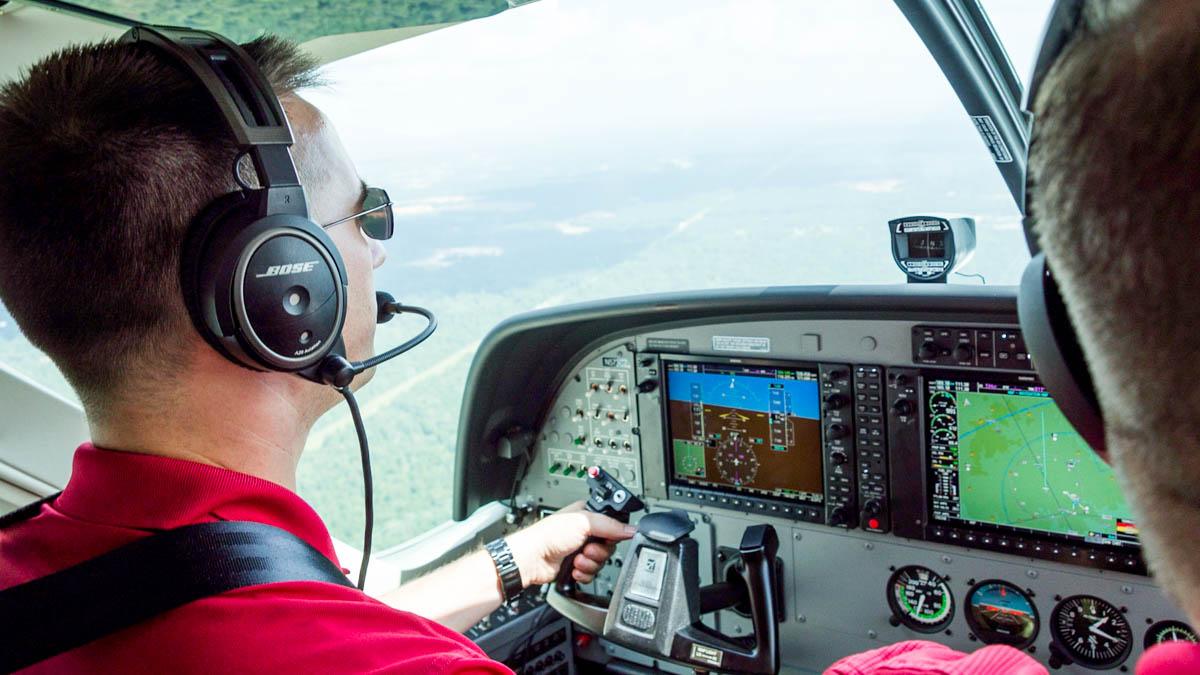 Ownership Considerations
The Caravan provides power, utility, versatility, and fun, while operating more cost-effectively than turboprop twins. With fuel prices at their current level, your operating cost could be less than $400 per hour. Unlike a King Air or jet aircraft, the Cessna Caravan only needs an annual inspection once a year, rather than phase inspections. Even if a 182 is the only airplane you've flown, the Cessna Caravan will seem easy to fly. Caravan operators appreciate the consistent reliability provided by this proven, time-tested airplane.
Acquisition & Resale Values
For a fully equipped Caravan or Grand Caravan, you will be looking at approximately $2.4M to $2.8M respectively. The Caravan has maintained a strong resale value due to demand in Africa and other demanding work locations.
Conclusion
Including myself, three of our pilots flew the Caravan that day, and we all walked away with smiles on our faces. The Caravan fulfills a variety of unique mission profiles. Depending on your business or personal needs, this may be the plane for you.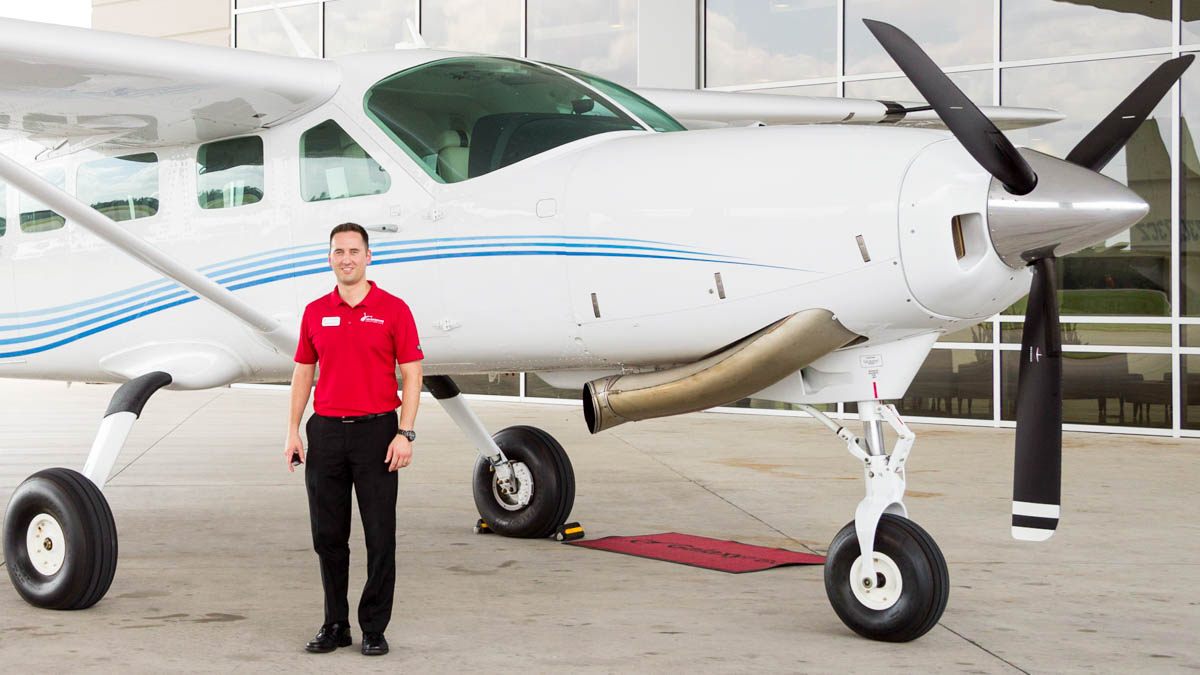 Acknowledgements
Special thanks to Steve Young, Bill Sentilles, and Jason Williams of Textron Aviation for providing the opportunity to demo such an extraordinary airplane.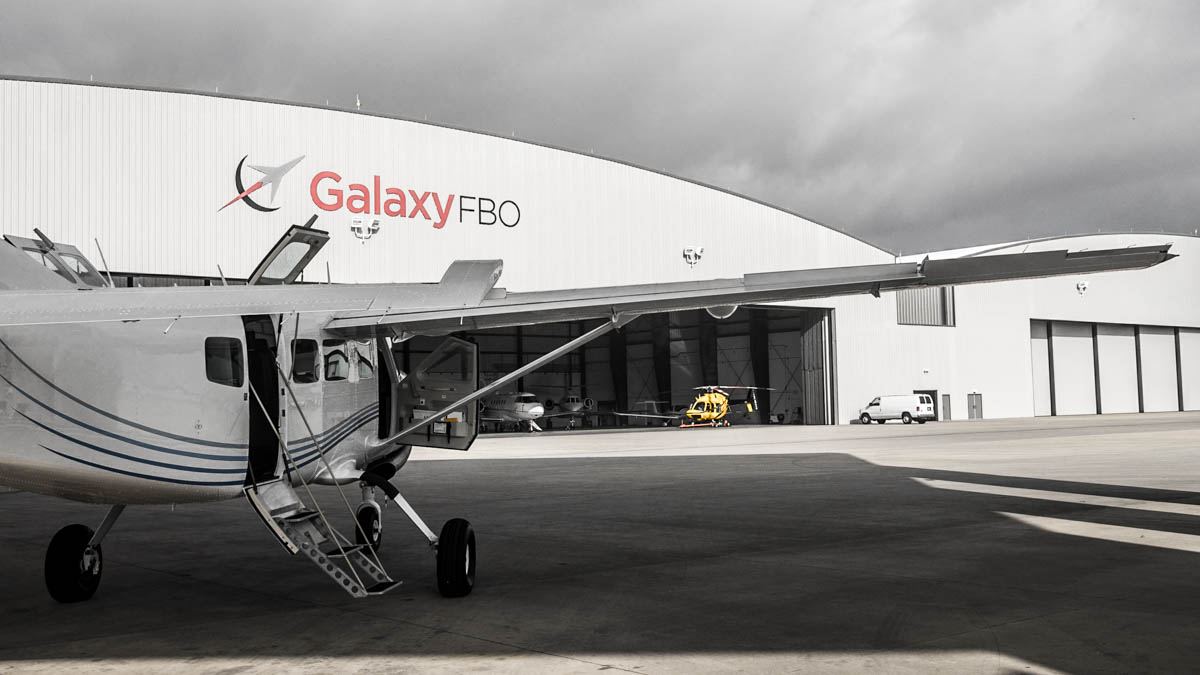 Affiliate disclosure – we help buyers find the right airplane.
We have affiliations with multiple aircraft manufacturers and aircraft dealers, which may allow us to earn a commission or referral fee. Since we are not exclusive to one particular manufacturer, we are able to bring you unbiased information to make an informed decision rather than one-sided reviews. If this information has helped influence your decision, please consider using us as the referral source for your purchase. If you're a serious buyer for a new aircraft, call me directly and I'll help coordinate demo flights for you and assist with the purchase process. – Brandon Ray (866) 227-8149.
Disclaimer – Keeping it real.
We try to keep our facts straight, but errors may occur. Please do not use our generic performance numbers or specifications presented for any actual flight planning. You should rely on the manufacturer's approved documentation when making flying or purchasing decisions based on specific numbers or features.
Other ideas?
I invite constructive input if I missed something that should be included here. Send me your comments.
Would you like more information?
Send us a message below.