In-Depth Review of the Cessna TTx T240
High Performance Aviation
An In-Depth Review of the Cessna TTx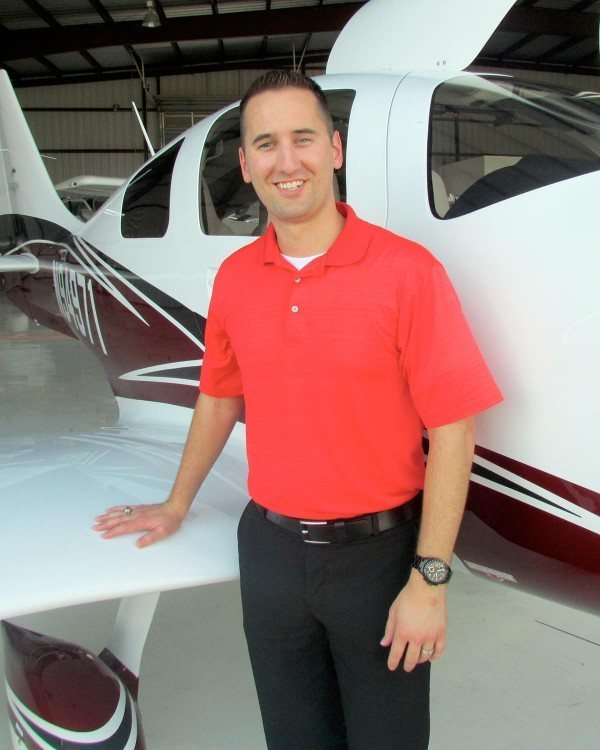 In April 2014, I had the opportunity to fly the new Cessna TTx for the first time. A derivative of the previous Cessna 400 "Corvalis TT", the TTx is Cessna's latest offering of a high performance aircraft with a sleek and sexy airframe.
Before I elaborate more on my experience with the TTx, I should make it clear that I am a dedicated Cessna fan. Having previously worked as an Instructor Pilot at the Cessna factory in both Independence, Kansas, and Bend, Oregon, I enjoyed the opportunity to fly new airplanes with customers on a daily basis. My experience includes teaching on the 172, 182, 206, as well as the 350 and 400 after Cessna purchased Columbia Aircraft. I am an absolute fan of the Columbia / Corvalis line of aircraft, and it is exciting to see this lineage of aircraft with a renewed focus for the future.
Enough about me, let's get to the airplane…
History of the Cessna TTx
Cessna purchased Columbia Aircraft in Bend, Oregon in late 2007. During that time these composite airplanes (the Cessna 350 and Cessna 400) were built, assembled, painted, and completed at the factory in Bend, Oregon. Having worked at this factory, I got to see first hand how important temperature and climate control were to the composite layup and curing process. This factory was not like Independence, where the constant noise of rivet guns and aluminum assembly can be overwhelming at times, and the heat of the summer can be felt throughout the facility. In Bend, the factory was nearly silent in comparison to the noise of Cessna's traditional factory. You could catch the scent of composites, glue, and paint within the factory, but there was no hammering, no riveting, and no clanging metal to be heard. Also in stark contrast was the comfortable temperature of the entire factory. The climate was precisely regulated to provide an optimum environment for the composite construction and curing process. In addition, Bend is a naturally comfortable place with it's high-desert climate and low humidity.
In 2009, in light of the economic crisis and in an effort to consolidate manufacturing, Cessna made the decision to move the composite construction to Chihuahua, Mexico and transport the composite aircraft parts to the factory in Independence, Kansas to be assembled, and completed for delivery. This was an unfortunate move that cost many skilled workers their jobs and resulted in a loss of "tribal knowledge" from people who had worked in Bend since the early days of Columbia Aircraft Manufacturing. Production was ramping down as a result of the economic uncertainty, and it took some time for Cessna to make the transition to the new location for the airplane to continue production. When the production was resumed, it wasn't long before problems began to surface with the new manufacturing process in Mexico. Issues with temperature and humidity control were unknown at the time, but ended up having significant ramifications for the short-term future of this product line.
While on a test flight, a Cessna 400 suffered a significant delamination along one of the wing spars resulting in a fuel leak. The pilot landed the plane and everyone was okay, but this unfortunate incident led to the immediate issuance of an Emergency Airworthiness Directive (AD). An emergency AD is a BIG DEAL to an aircraft manufacturer. Even though I no longer worked for Cessna at the time, I felt a sense of embarrassment for the company who had turned an awesome airplane into a shameful conversation topic between competitors and prospective buyers. When this happened, it also affected any current customers who had airplanes using composite parts made in Mexico. Even if it was just a door that was made in Mexico, it affected the airworthiness of the airplane until Cessna got the quality control issue resolved. Cessna likely paid hefty fines and scrapped several airplanes as a result of this fiasco. A lot of work needed to be done to perfect the composite manufacturing process in Mexico and ensure that this would not be an issue again in the future. Although no one would admit it, this incident marked the unofficial end of production for the Corvalis and Corvalis TT.
Fast forward to 2013, Cessna has finally worked out the kinks in the manufacturing process and certification for the new and improved Cessna TTx. As if this airplane hadn't been renamed enough times already (Columbia 400, Cessna 400, Corvalis TT), they have re-designated the aircraft as the Cessna T240 to more appropriately fit in Cessna's numerical line-up of aircraft models. The "Corvalis" name has been dropped (no one knew how to properly pronounce it anyways), and it is simply called the "TTx" now.
Up until the TTx, Cessna did very little to innovate on the Columbia / Corvalis line (to the disdain of all the owners and prospective buyers). Can you hear the sound of Cirrus rejoicing in the background? Most of Cessna's progress was behind the scenes updating engineering documentation and fixing the numerous flaws in some of the manuals.
Innovation or Stagnation?
In late 2007 when Cessna took over Columbia Aircraft, they made a few immediate changes. WAAS was made standard. They added cup holders (I know, impressive right?) and rudder hold (more on that later). In 2009, they improved the paint process, and changed the built-in oxygen (three bottles) from the inboard right wing to one larger bottle in the tail of the airplane resulting in less weight and improved CG (moved the CG aft by about one inch). Oh, and did I mention a new paint scheme? That's about it. Over the course of more than 5 years, this airplane saw minimal changes of substance. There were no changes likely to convince a current 400 owner to upgrade to a new 400. The airplane was still a great airplane but would be left to fail if Cessna didn't up their game… and fast. Unfortunately "fast" is not typically a word used to describe Cessna's speed of innovation. Cessna is known for proven, tested, and reliable products. Quality service, consistent support, and dependable airplanes are Cessna's forte, but swift innovations are rarely seen.
The TTx was announced as the next generation of the Corvalis line and I've been excited for its debut since it was first announced in 2010. After a long, long wait (while competitors were innovating their new features and certifying, manufacturing and selling aircraft), the TTx has finally arrived.
I recently traveled to the factory to receive training on the TTx. There were not many substantial changes to the design of the airframe and it's basic systems. The aircraft still features the same airframe design, including a utility category certification, dual wing-spars, 102 gal usable fuel capacity, spin-recoverable airframe, two steel horizontal stabilizer attachment tubes, etc. The majority of the airframe is made of fiberglass, with the flight controls and roll cage made of carbon fiber, and the wing spars featuring a beam construction utilizing both fiberglass and carbon fiber composites. The aircraft is assembled in right and left halves and electrically connected through a mesh web integrated in the composites, and a foil-like substance under the floor allowing static discharge to be transmitted through the aircraft surfaces and dissapated through static wicks (AKA "lightening protection"). The "direct-response" push-pull rod controls are the same, except they now feature a leather wrapped yoke instead of wood. These controls still have the same great feel they have had since the beginning – Solid, responsive, and natural to fly. The interior upholstery features high-end Citation leather to improve upon the already comfortable Oregon Aero seats.
Cessna TTx Differences
This is what we've all been waiting for…
Flight Into Known Icing (FIKI)
Initially offered with TKS only for inadvertant icing, the TTx is now offered with a FIKI (Flight Into Known Icing) package. The airplane just recently received the FIKI certification from the FAA. This is a huge step forward in my opinion. Some will still argue that this is a dangerous addition causing pilots to tempt fate in a single engine airplane. I consider it another important tool in the toolbox and a great selling point to make this airplane competetive in the current market.
Garmin G2000 Intrinzic
Widescreen Displays
The Garmin G2000 is another huge step forward in advancing this airplane. The G2000 features two widescreen displays and a single Garmin Touchscreen Controller (GTC) easily accessible as part of the center pedestel. I didn't think the wide screen displays would matter much, but coupled with the synthetic vision these displays made a huge impact on the ease at which you scan the display. It felt as though they were high definition windows allowing you to see more than just instruments, but rather peer through the IMC and intuitively understand your position in relation to your environment.
GFC 700 Autopilot
The G2000 features the same great autopilot (GFC 700) with an updated panel, and now has a scroll wheel instead of nose up/down keys. This improved autopilot controller has been used in different variations for the Cirrus Perspective and the G1000-equipped jets like the Mustang and Phenom for years and is much more functional than the traditional PFD/MFD side-bezel controls. The G2000 now allows for coupled go-arounds and electronic stability protection (ESP). There is no "level" button like a Cirrus, although I doubt anyone will seriously miss it.
Dual AHRS / Dual Magnetometer
The aircraft now features dual AHRS and dual magnetometer, and option that was previously unavailable. Unfortunately, Dual Air Data Computers are not currently offered.
Com Antennas
It is known that on the Columbia / Corvalis models, Com 2 is typically better than Com 1. This is due to the fact that both antennas are located on the underside of the plane, Com 1 in front, Com 2 aft. The Com 1 antenna can suffer from interference with the landing gear, steps, etc., making it an overall weaker radio to use than Com 2. This causes many people to reverse their normal procedure and use Com 2 as their primary radio for communicating with ATC, and Com 1 for the secondary radio (for ATIS, etc.). On the TTx, however, they addressed this problem by moving one antenna to the top of the airplane and leaving one antenna on bottom. A minor change, but helpful.
Emergency Pump
In the past, the airplane used a backup pump with an ARMED/OFF switch to supply fuel pressure in the event of loss of an engine driven fuel pump (used in the ARM position for every takeoff). The new arrangement is an ON/OFF switch which is only turned ON if needed. Same pump, same purpose, but different method of activation.
Standby Instrument – ESI-1000 L-3 Trilogy
The L3 standby instrument is an excellent improvement. The old standby instruments were small and difficult to read. The new L3 all-in-one standby instrument is a great addition to this fine airplane and keeps the panel looking even cleaner. Perhaps they could consider adding an independent battery backup to this system in the future?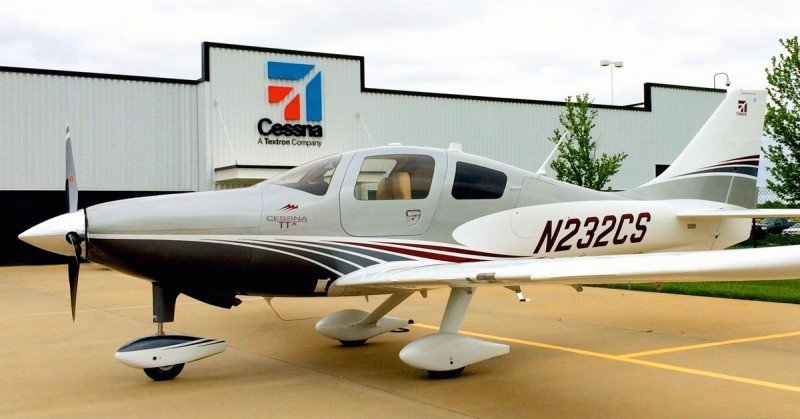 Flying the TTx
Flying the TTx is a pleasurable experience identical to flying it's predecessor. I have not encountered a piston airplane that so perfectly blends a solid airframe with powerful performance and such naturally responsive and precise controls. I think most owners agree… This is the top characteristic that makes the TTx a "pilot's plane". Hand flying is actually fun again. Allow me to explain further. The airplane's side stick is not just a side-yoke that slides in and out of the panel. It is a true joystick-like control that pivots around a point. The grip features contours that allow your hand to naturally grasp it while flying. The side stick is mounted in the side of the airplane just forward of the where the armrest is positioned with the doors closed. This results in the optimal flying position that I affectionately refer to as the "La-Z-Boy" stance requiring only wrist-action rather than full-arm movement. It's effortless. It's comfortable. This was done right.
The Garmin G2000 Intrinzic is another system that was well done. It featured new "Panes" that can allow split screen viewing of maps, charts, traffic, etc. Currently this is only on the MFD (multi-function display), but should be coming to the PFD (primary flight display) at a later date through a software update. The GTC (Garmin Touchscreen Controller) uses logic similar to Garmin's touchscreen units like the GTN 650 & GTN 750 series. This was highly intuitive and took very little time to figure out. Data entry is much more efficient and there are many easy ways to move between the commonly accessed pages. One drawback however is that the Enivornmental Control System is controlled through the GTC rather than on a separate control panel. This makes it cumbersome to go through multi-layered menus just to adjust the temperature of the air conditioning.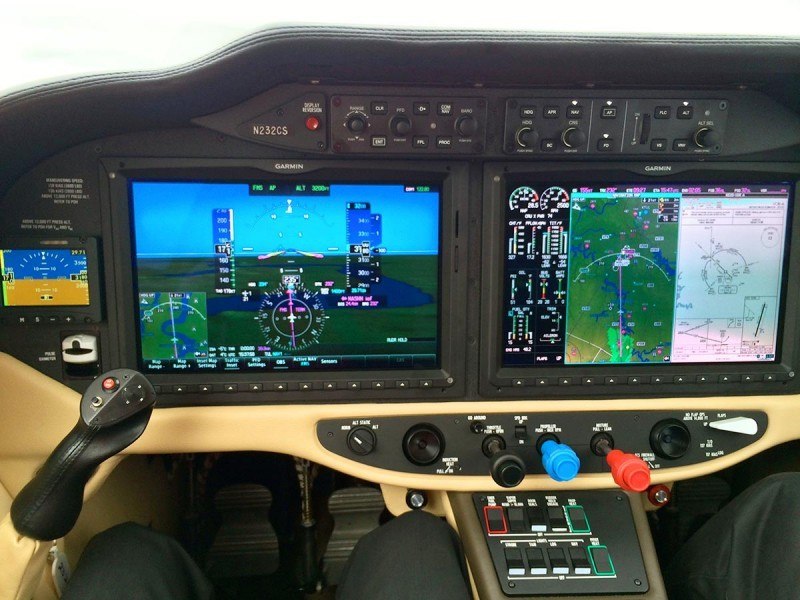 A few other minor improvements:
Nice job on cupholders. These are now at a fixed position on the lower open portion of the center pedestal, rather than the flimsy pull-out cupholders found on previous models (beginning in '08).
Nice job on the entryway to the airplane. The new doorframe threshold protectors are highly refined, look more luxurious and should prevent the scuff marks that were common when they were clear / white on previous models.
Beneath the panel is now a place to grip when adjusting your seat position. This is an improvement over the previous models, which did not have a good place to hold while pulling your seat up closer to the pane.
Critique of the Cessna TTx
While I thoroughly enjoyed my time in the TTx, there are still several areas that can be improved. I have put together a wishlist of items that I think need improvement as well as a less-realistic list of items that could make this airplane the dream flying machine.
Realistic Wish-list:
Get rid of the rudder limiter! This would be embarrasing even if it was on a SkyCatcher. Just get rid of it. It doesn't work well, it has a tendency to break, and it's not appropriate for this awesome airplane. Instead, it should have a yaw damper. See below.
Add a yaw damper. This airplane needs a lot of right rudder, so climbing up to higher altitudes can be fatiguing. A Yaw Damper through the GFC 700 would be significantly better than the current rudder hold system.
Position the GTC at a more upward angle to prevent as much heads down time. This controller is the source of all flight plan programming and changes. This is not a good place to be looking while flying in IMC conditions. While there are some physical contraints like the engine controls and switches, a slight upward angle would help prevent pilots from staring downward as much. I'd suggest somewhere between the current position and the more vertical GTC position found in the Citation M2.
Allow the passenger door to be unlocked from the outside. Currently it can only be locked/unlocked from inside the cockpit. This is annoying as a passenger or flight instructor, because someone has to open the left door and climb in or lean way over just to lock or unlock the right side of the plane.
Get rid of the keyless entry. These aircraft have featured a keyless entry gimmick for several years. This allows you to use a key fob (like a car) to unlock the airplane remotely as you walk up to it. But it doesn't lock the doors; it only unlocks the pilot side door. Pretty cool the first time. Then it never gets used again. Unless Cessna can allow a key fob to remotely open the doors, turn on the strobes, and blast some Top Gun music over the speaker as I approach the plane, I'm not impressed. In addition, I think maybe OnStar would be a nice addition in case the barefoot bandit ever strikes again, we can just remotely shut down the engine on his way to the Bahamas (totally kidding).
Add airbags. The other piston Cessna's have airbags. Cirrus has airbags. Why not the TTx?
Improve seat slide mechanism. The T-handle for adjusting the seat is in a bad position (side of the seat). It should be relocated to the front of the seat so it's easier to adjust.
Change seat height control. The seat height has been controlled by changing seat cushions (thin, medium, or thick). This is a ridiculous plan and needs to be changed. Instead, the seats should have an adjustable seat height control, or seat rails that rise the closer you slide your seat to the panel (like Cirrus). Many planes are owned in partnerships with partners of varying heights, and a height adjustment would ensure that each person can sit in the optimum position for their height.
There is no way to manually dim the screens. It is all automatic. This is fine for most occasions but there are many times when manually dimming the screens is preferred.
Pulse oximeter is a little gimmicky. Maybe my hands were just cold, but it only worked once out of five attempts for me.
I'm Dreaming Again Wish-list:
I know the following items may not be realistic as they require tremendous expense and re-certification. While it may be unlikely to see any of these features in the future, these are the things customers would like…
Parachute – Not because it needs it, but some people want it for their own reasons. It will also help sell airplanes when non-pilot decision makers are involved in the purchase.
Forget the utility certification – Let's see a gross weight increase. Utility catergory is great, but a higher gross weight would be useful for EVERY owner. We need this airplane to be tested and certified for an additional 200-300 lbs max gross weight. In addition, the landing weight restriction needs to be completely removed. Currently, the max gross weight is 3600 lbs and max landing weight is 3420 lbs. This means if you takeoff at max gross weight, you have to burn off 30 gallons of fuel before you do a landing or touch and go. This requires 1.5 to 2 hours of flight time. This can be very inconvenient for short trips with a heavy load. It would also be nice to remove or raise the max zero fuel weight (3300 lbs).
Add a diesel-powered FADEC equipped engine. Single lever and no leaning required – all automatic.
Build a 6-place turbine powered, pressurized version of the TTx and make it look as cool as Epic aircraft. Lots of useful load, please. It should do 280+ KIAS, preferably something above the 300 mark.
In Conclusion
Overall I am pleased with the TTx and look forward to seeing more in service. It offers some solid competition to the other go-fast airplanes on the market. If you are considering a TTx you will want to discuss your ongoing training plans with a qualified instructor. I would suggest thorough transition training followed by a check up training session every 3-6 months. This is a capable high performance airplane that will take you higher, farther and faster. If we can offer any assistance in your airplane purchasing decision, please feel free to contact us directly. Fly safe!
Would you like more information?
Send us a message below.