A Hungry Pilot's Guide to Airport Diners
High Performance Aviation
Flying to Good Food
by Hank Gibson, CSIP, Gold Seal CFI, CFII, MEI, AGI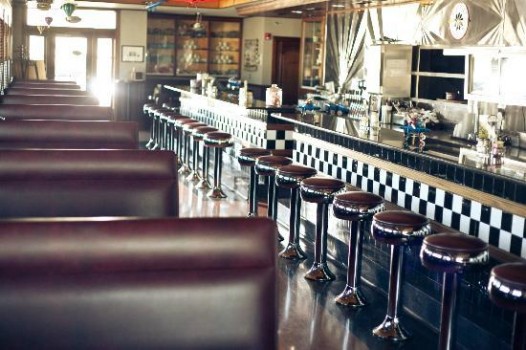 The Pilot
As a flight instructor, I make it to a lot of airports throughout the course of a year. I like going new places, landing at different airports, and finding new challenges. But, my goal for each flight is to find some place good to eat and a fun place to fly. That could either be an airport diner (Brenham, TX for example, 11R) or some place close by that can be reached by a golf cart (Hard Eight BBQ in Stephenville, TX (KSEP); more on that later).
The tricky thing is finding information on what airports have airport diners and good food nearby. Trust me, pilots don't want to have Mickey D's for lunch, then get bounced around for two hours. It usually doesn't end well.
Typically, I can find information on Airnav.com in the reviews section as to whether an airport has an airport diner on the field or there is something tasty nearby. Not always, though. If you look up Stephenville on Airnav, there is no information about even an FBO there, let alone an awesome BBQ joint. So, I have come to the conclusion that someone needs to compile a list of good places to get a bite to eat. Maybe just a lunch stop on a longer trip or maybe the sole purpose of the trip is food. Regardless, I am here to help.
The destinations below are not listed by ranking. If there are others that I should check out, please add it in the comments section. Please note, the airport diners and restaurants listed below are only ones I have eaten at. I know there are a multitude of others, but I can't give a good review if I haven't chowed down there.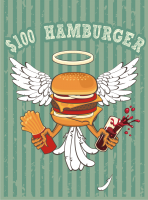 The Food
Southern Flyer Diner-Brenham, TX (11R): Everybody in Houston and most of south central Texas knows about Brenham. Heck, this airport diner is probably the birth place of the $100 hamburger. The Diner is '50s themed complete with a jukebox and waitresses in poodle skirts. I half expect to see Elvis in the corner during lunch. The Blue Bell Ice Cream Factory is in town so the shakes are wonderful. The burgers are what draws the crowds, though. Open 7 days a week for lunch (avoid on Saturdays and Sundays!) and dinner on Friday and Saturday nights. Located right in the FBO.
Crosswind Cafe-Angleton, TX (KLBX): I just recently discovered the Crosswind Cafe, but it is definitely worth a visit. Closer to most Houston airports than Brenham, it also has a wide selection on the menu. The salads are great, as well as the fried okra with their own dipping sauce. Don't forget to try the Poblano Soup. It sure hits the spot on a cold day! Located just north of the FBO. [Note – the Crosswind Cafe is now closed – Runway Cafe has taken it's place.]
Airport Cafe-Lufkin, TX (KLFK): Personally, I think the burgers at the airport diner in Lufkin are better than the ones in Brenham. I may get shot for that, but oh well. Lufkin has a more homestyle feel to it. The waitresses all call you honey and sugar and darling. It's definitely East Texas! They also serve breakfast, which I haven't tried, and a plethora of yummy sounding desserts. They make a mean garden salad too. Located in the FBO. Just follow the grease smell!
Sky Restaurant-Victoria, TX (KVCT): Mainly a seafood joint that is just down the street from the terminal building. Grab a crew car and you'll be there in about 2 minutes. You get a lot of food with your meal, so come hungry. The fish is good and they have some local farm fresh dishes as well. Beware of cranky controllers at Victoria, though.
Hard Eight BBQ-Stephenville, TX (KSEP): I heard about this place, but when I looked up the airport on Airnav, there was no information on it. I did find somebody who had been there and got the scoop. If you like BBQ, you won't want to miss this. The restaurant leaves golf carts in the FBO parking lot for the pilots. You simply just hop in a golf cart, turn left down a dirt road, then make a right down another gravel road that turns into a cart path, park in the golf cart parking lot, walk across the street and enjoy! It is authentic pit BBQ because you get served right out of a pit.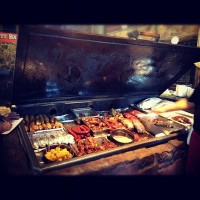 The BBQ Capital of Texas-Lockhart, TX (50R): Lockhart is the self-proclaimed BBQ capital of Texas. They have four restaurants there: Chisholm Trail, Kreuz Market, Black's BBQ, and Smitty's Market. I've only been to Chisholm Trail and it was really good. You get a ton of food for cheap too. The best thing is the crew car at the FBO. It's a giant, diesel Suburban termed the BBQ Wagon. If you're close to Austin, this is the place to stop for a bite to eat. Just be sure to let your food settle before you go up in the bumps!
Airport Diner-Fredericksburg, TX (T82): Fredericksburg is really cool. It's an old German town with lots of shopping and historic buildings, so if you get the chance, make a day trip out of it. The Airport Diner is next to the Hangar Hotel (quite literally a hotel in an old hangar). The menu is mostly sandwiches and some burgers, but good food all around. It really feels like an old diner, long and skinny complete with a bar to eat your grub at. Beware of strong winds out in West Texas, though!
Aviator's Grill-Spring, TX (KDWH): Located in the Gill Aviation FBO, the Aviator's Grill is a good spot to debrief over a Coke and some fries. The dining room is spacious, so there usually isn't trouble finding a seat. Plus, they are open 7 days a week. And, if you're based at Hooks, it goes from a $100 hamburger to a regular priced hamburger!
The Runway Cafe-Lancaster, TX (KLNC): A place not many people other than the locals know about, the Lancaster airport diner is a cozy spot to have lunch. With daily specials apart from the usual burger and fries, it can add a little variety to your lunch. They do have aerobatic training around the airport, so keep your eyes peeled and make calls on the CTAF when you're coming in. LNC has a nice long runway and is relatively quiet compared to the bustle of Dallas. [Note: The Runway Cafe closed in January, 2013. Check out the Taxiway Cafe at KLNC. ]
Mixed Up Burgers-Grand Prairie, TX (KGPM): The restaurant is located in the new terminal building, which is pretty slick. The menu is mostly burgers, but not your normal meat and cheese fare. With toppings ranging from salsa, mushrooms, BBQ sauce, and pineapple (not all on the same burger), you're bound to come out saying, "Huh, that was surprisingly good. I didn't know folks put that on a burger." The curly fries are a good side dish. If you're looking for the FBO, it's not actually in the terminal building. It's in the hangar that is just south of the terminal. Good fuel prices for the Dallas area, too.
Mathis Field Cafe-San Angelo, TX (KSJT): You wouldn't know it at first glance, but this is actually a Chinese food restaurant. First one I've ever seen at an airport. Wouldn't expect it in San Angelo, either (but, I guess I wouldn't expect the Ali Baba Restaurant in Morgantown, WV). The lunch portion was just the right size. The food wasn't anything to write home about. I had the veggie lo mein; it was kind of dry and salty. The Cafe is located in the airport terminal building. If you stop at one of the FBOs, it's quickest just to walk over there. There is a Deli in there too, Above the Clouds Deli, that got rave reviews on AirNav.com. I think I would be going there next time.
Michael's Charcoal Grill-Midland, TX (KMDD): Michael's is not actually located at the Midland Airpark. You'll have to get a crew car from the FBO. Once you come out of the airport gate, take the first right, then it's a few blocks down on the left. Excellent food, huge menu, and best of all, it's aviation themed! Michael is apparently an aviation enthusiast (I think he used to fly in the Air Force), creating the airplane buff's dream restaurant. I had a burger and tater tots, which were both really good. They also had BBQ and a variety of other things as well. If you're in West Texas, it's worth a stop in at Midland for lunch.
Cooper's Old Time Pit BBQ-Llano, TX (KAQO): This is a fun one. First of all, the Llano airport is top notch. The runway is in really good shape (they also have a huge grass strip for you adventurous types). The line service is excellent. During working hours, the line guys will always come out to help you fill up and chat for a bit. You get some of that West Texas hospitality. The food is great, as well. Cooper's leaves 2 fifteen passenger vans in the parking lot of the FBO. Just fill out a waiver form, grab the keys, and away you go. Beans and bread are free. Meat hits the spot. Just make sure you give your food time to settle before heading back out in the turbulence.
Bernard's Creole Kitchen-Stinson Field, San Antonio, TX (KSSF): I recently discovered Bernard's at the Stinson airport. I typically don't go to San Antonio for my training flights so as to avoid the busier airports. I had all but forgotten about Stinson though. The airport is nice and quiet. Bernard's is located in the main terminal building underneath the tower. It is authentic Creole, since Bernard is from New Orleans. When you walk in from the ramp, take the first hall on the right and that will lead you the the eatery. The servings are quite large. The Gumbo filled me up right. There is also a stage where they have live music on Friday and Saturday nights. If you need fuel while you are waiting, you'll have to call San Antonio Aviation and they'll send a truck down for you. [Note – Bernard's Creole Kitchen has closed. Brown Bag Touch 'N Go Sandwich Shop has now opened in KSSF. ]
Stephen's Grocery-Leesville, LA (L39): You have not had fried chicken until you've had it from Stephen's Grocery. L39 is a small, country airport with a short runway that is located southwest of the Polk Air Force Base in Louisiana. The gentleman at the FBO gave us the keys to the courtesy car and pointed us toward Stephen's Grocery for their "hot lunches." We didn't know what a hot lunch consisted of (images of elementary school and mystery meat came to mind), but we pressed on anyway. Boy, was it good! With some mac and cheese and corn on the side, it made for the perfect meal.
A Stone's Throw Cafe-Shreveport, LA (KDTN): Made my first trip to the Shreveport Downtown Airport last week and was pleasantly surprised to find an airport diner located there. They serve breakfast from open till close (6am-2pm) and have giant cookies sitting in the counter for dessert along with a list of home baked pies and other goodies. There are a good amount of options for lunch. I sampled a healthy sounding Veggie Sandwich, which was quite filling and tasty. Fuel is cheaper here than at Shreveport Regional, just make sure you don't wander into the Barksdale AFB airspace to the east of the airport.
Ali Baba Restaurant-Morgantown, WV (KMGW): Stopped here on my way to White Plains, NY. Tucked away in the hills of West Virginia, the airport itself is a little bit hard to spot. The restaurant was okay, kind of greasy (we got sandwiches to go, so I didn't get a chance to enjoy the atmosphere), but a different style of cuisine than you would find at most airport diners. If you're in the area, it's worth a stop to check it out.
CJ Maggies-Buckhannon, WV (W22): This place is a gem. The restaurant is actually in downtown Buckhannon and is quite good. You get a ton of food with your meal in a really fun atmosphere. It's tucked away in the hills of West Virginia, and the crew car is an old car without AC, but the food is totally worth it.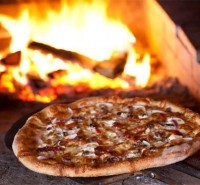 Flatbread Company Pizza-Martha's Vineyard, MA (KMVY): Flatbread's is awesome. Everything is organic and homemade in the restaurant. They have a lot of different pizza options (or just create your own) that are very filling. Once you pick your pizza, they create it and throw it in the wood-fired clay oven to bake to perfection. The FBO has a golf cart that one of the line guys can give you a ride in, then just call once you are finished for them to come pick you up. The airport has a restaurant too, but it was closed when I was there, so I'm not sure if it's good or not.
As I stop at more places to eat, I'll add to the list, so come back every few months or so and see what has been added. Remember, the key to a good flight is a good place for lunch!
Would you like more information?
Send us a message below.