The Cirrus Transition Training Experience
High Performance Aviation
Aircraft Ownership, May Edition

I'm going to be starting a monthly article series on aircraft ownership. The goal is to shed some light on what to expect as an aircraft owner if you are considering purchasing. This week's article will focus on transitioning to a Cirrus.
Initial Transition Training
So, you've bought a new Cirrus. More than likely, it's very different than what you have been flying. You've heard lots of rumors concerning landing it flat, touchy controls, something about a parachute, and an advanced glass panel setup. These rumors have you a little worried about taking it for a spin (not literally, of course). No need to fear, your local CSIP is here. A CSIP is factory trained by the Cirrus Aircraft Company and is certified to do factory transition training in all Cirrus aircraft.
Before jumping into the transition training, you'll need to purchase a training kit from Cirrus. The kit includes:
Aircraft POH
Cirrus Flight Operations Manual (this outlines how to do every single maneuver in a Cirrus)
Transition and Recurrent Training Syllabus
Online Avionics Course
Access to the Cirrus Training Portal (home to a lot of very valuable resources)
Cirrus Avionics PC simulator
Cirrus Icing Awareness Course
Cirrus Avionics Cockpit Reference Guide
Cirrus Aircraft Training Software for either Avidyne or Perspective Avionics suite
After you've purchased the kit (which HPA can do for you), what can you expect from the transition course? Well, Cirrus presents two options: a VFR transition course (simply, Cirrus Transition Training) or an IFR transition course (Cirrus Advanced Transition Training). The VFR course is usually 3 days, flight and ground training (or the hourly equivalent if you don't have 3 straight days to do it). The emphasis here is placed on the new owner becoming safe and proficient in normal VFR operations. You'll learn about the airplane systems (including the low-down on the parachute), all the VFR maneuvers, landings, emergencies, avionics, and the autopilot. The training is scenario-based, so your CSIP will present a "mission" for each flight, using real life scenarios.
Both the Transition Course and the Advanced Transition Course put a heavy emphasis on cross country legs during training. The idea is you, as a pilot/owner, will be flying cross country legs 90% of the time, so why not train you in the way you will utilize the airplane? Pilots in the VFR course average about 10 cross country legs, while the IFR folks come in at around 12.
If you have an instrument rating, then you have two options. Cirrus (and HPA) recommend that IFR pilots take the VFR Transition Course first, then take 2-4 weeks to get comfortable in the airplane. Go fly it around, do some VFR cross countries, get more comfortable with the avionics, then come back and train 2 more days to complete the IFR Advanced Transition. The other option would be to do the full 5 day IFR Advanced Transition Course.
The Cirrus IFR Advanced Transition Training course is typically 5 days long, flight and ground training. The IFR course will contain everything in the VFR course, plus IFR operations as well as IFR specific avionics and GPS training. This course also includes an Instrument Proficiency Check to help the pilot/owner knock off any rust in the IFR environment. Once you become proficient in IFR operations, you will be free to explore all facets of VFR and IFR flying.
Do you have insurance specific requirements? No problem. Your CSIP can customize a course for you, including all the Cirrus factory training.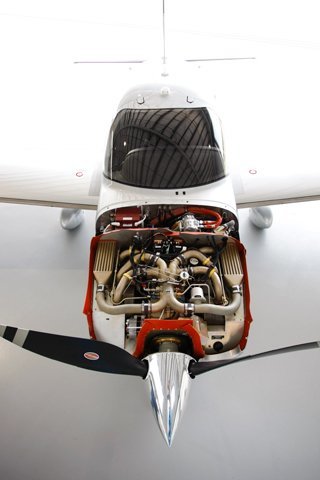 Upgrade Training
Are you already a Cirrus pilot? Does your new plane have a different engine or avionics then you are accustomed to? Cirrus has the solution in their Airframe and Powerplant Differences or their Avionics Differences courses. The Airframe and Powerplant Course is for owners who are either upgrading from a Cirrus SR20 to an SR22 or a normally aspirated Cirrus to a Turbo Cirrus. The Avionics Course is for pilots upgrading from steam gauges to a glass panel, or an Avidyne Entegra to a Garmin Perspective. Each of these courses are approximately 1 day, ground and flight training.
Recurrent Training
You've completed the transition course, but you want some recurrent training. Cirrus comes through again with an initial 90 Day Refresher Course (1/2 day), followed by two, Six Month Recurrency Checks (each 1 full day). The six month checks continue every year, allowing you to get a current IPC and BFR once a year (insurance usually requires this anyway).
If you are looking into purchasing a Cirrus SR20, Cirrus SR22, Cirrus SR22TN, or Cirrus SR22T, this is what to expect as far as the training goes. It's the same training the factory gives, using factory materials. After completion, you'll be a safer pilot in your new aircraft.
Would you like more information?
Send us a message below.