Bose A20 Aviation Headset Review
High Performance Aviation
The New Bose A20 Aviation Headset
Have you been considering a new headset? The new Bose A20 Aviation Headset is top-notch quality with several excellent features. Based on the previous Bose Aviation X, Bose took a great headset and made it even better. I just picked mine up at Oshkosh last weekend and have flown with it every day for the past week.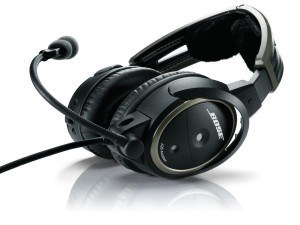 For the past 6 years, I have been flying with my Sennheiser HMEC 400 electronic noise-cancelling headset. The active noise-cancelling technology is well worth it, especially if you fly often. I was pleased with the quality of the HMEC 400, and the 10 yr warranty from Sennheiser at the time I purchased it. I've flown with several different headsets, including David Clark, Lightspeed, Bose, and others, but nothing seemed to compare with the overall quality of the Bose products. The Bose Aviation X headset was lightweight, low-profile, and high-quality.
Lightspeed was notorious for having good noise cancelling qualities in the past, but some of their headsets had earcups large enough you might knock out your passenger if you turned your head too quickly. With the introduction of the Lightspeed Zulu, they finally had a product to compete with Bose, featuring Bluetooth technology and a slimmer, lighter design than on previous headsets. For the past year, I have been considering the Bose Aviation X or the Lightspeed Zulu as the best options for my next headset purchase. I wanted the quality of the Bose, but the features of the Zulu.
Last week, my decision was made easy when Bose introduced the new A20 Aviation Headset. New features include built-in Bluetooth (optional) for cell phone connectivity, auxiliary audio input, and improved noise-cancelling technology. Although it is still at a higher price point than the Zulu ($1095 vs. $850 for the Zulu), the Bose A20 headset has all the features I was hoping for from a top-name brand. My old headset required 4 AA batteries, and only lasted for about 15 hours of flight time. The new Bose A20 uses just 2 AA batteries but lasts for 40 hours. Impressive!
After flying with my A20 for a week now, I am confident that I made the right decision. I typically fly for several hours each day, so it is important to have a headset that won't leave me feeling fatigued. So far, the A20 has proven itself to be extremely comfortable. In a side-by-side comparison in flight, it is obvious that the Bose headset offers lower noise levels than my previous Sennheiser, with better sound quality and clarity.
Here are some of the improvements for the A20 over the previous Bose Aviation X:
Bluetooth connectivity (for cell phone use… not audio)
Aux. audio input (cable included)
Intercom/aux priority switching
Volume knobs are recessed to protect them from accidental adjustment
Additional noise sensing mic inside the earcup to improve active noise cancelling
Less clamping force
Headset band features a different "clamping angle" to prevent headset from compressing the ear seals… Earlier models would compress the ear seals, reducing the effectiveness and sometimes causing the speakers in the earcups to press against the user's ears.
Deeper earcups to allow more space for the user's ears
Improved materials in the earcup for better noise canceling
Recommendations for connector type:
The Bose A20 features several different connection options… A 6-pin panel-powered model, and a standard GA 2-plug "bayonet" style adapter. You can purchase separate cables for the headset, but for $295.95 it's not very cost effective. Here are my suggestions based on what type of aircraft you fly…
If you always fly an aircraft with the 6-pin panel-powered adapter (Columbia, Cirrus, Corvalis), go ahead and get the 6-pin headset.
If you never fly an aircraft with the 6-pin panel-powered adapter, get the headset with the standard GA 2-pin connector.
If you fly multiple aircraft with different types of connectors, I would suggest getting the 6-pin panel-powered headset, and get the Bose 2-pin adapter for $59.95. This way you can connect to either type. This is what I opted for since I frequently fly Columbia, Corvalis, and Cirrus products with the panel-power, but also fly traditional aircraft with the 2-pin connectors. You can purchase a replacement cable, but at $295.95, it is not likely a cost-effective solution.
Even the panel-powered unit will require 2 AA batteries. These batteries serve as a backup for the panel power and also will power the Bluetooth until the panel power becomes active.
The A20 sells for $1095 with Bluetooth or $995 without.
Buy online:
If you choose to buy a new Bose headset, feel free to use my affiliate links below.
Would you like more information?
Send us a message below.