Garmin 430/Garmin 530 Training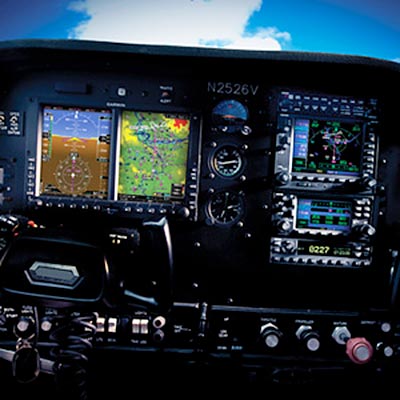 Garmin GNS 530W (GPS/WAAS/Nav/Comm)
Garmin GPS 500W (GPS/WAAS)
Garmin GNS 430W (GPS/WAAS/Nav/Comm)
Garmin GNC 420W (GPS/WAAS/Comm)
Garmin GPS 400W (GPS/WAAS)
Garmin GMX 200 (MFD)
Garmin 500/Garmin 600 Training
Garmin G600 (PFD/MFD)
Garmin G500 (PFD/MFD)
See Courses Below…
Garmin Basic
Fly Home Safely
4 Hours – Ground Training Only
This course will allow you to perform basic functions within the Garmin system. You will learn how to input data and frequencies using tips, tricks, and best practices. You will learn how to navigate using flight plans and GPS direct courses. In addition, you will become capable of updating your avionics databases. Finally, you will be able to navigate the pages and page groups of the Flight Management System, while recognizing the most important functions.
Garmin Advanced
Fly IFR
8 Hours – Ground & Flight Training
You will receive everything included in the Garmin Basic Course, in addition to IFR procedures. Your training will include instrument approaches (VOR, GPS/WAAS, ILS), as well as arrival and departure procedures. If you are new to WAAS, this provides a great opportunity to learn about the benefits of WAAS and how to fly the new WAAS approaches (LNAV, LNAV/VNAV, and LPV).
Garmin Mastery
Fly Effectively
12 Hours – Ground & Flight Training
This course includes all elements of the Basic and Advanced course, plus techniques for the advanced pilot. You will learn how to plan your descent using the Garmin Vertical Navigation tool (VNAV), create custom waypoints for private airstrips or favorite landmarks, and use the OBS feature to select a desired "radial" to a GPS fix. Through scenario-based training, you will learn what to do if any system failures occur and the appropriate responses for a successful and safe outcome. Finally, you will learn how to customize the map display settings to present information most effectively for your needs.
Contact us today to find out more.