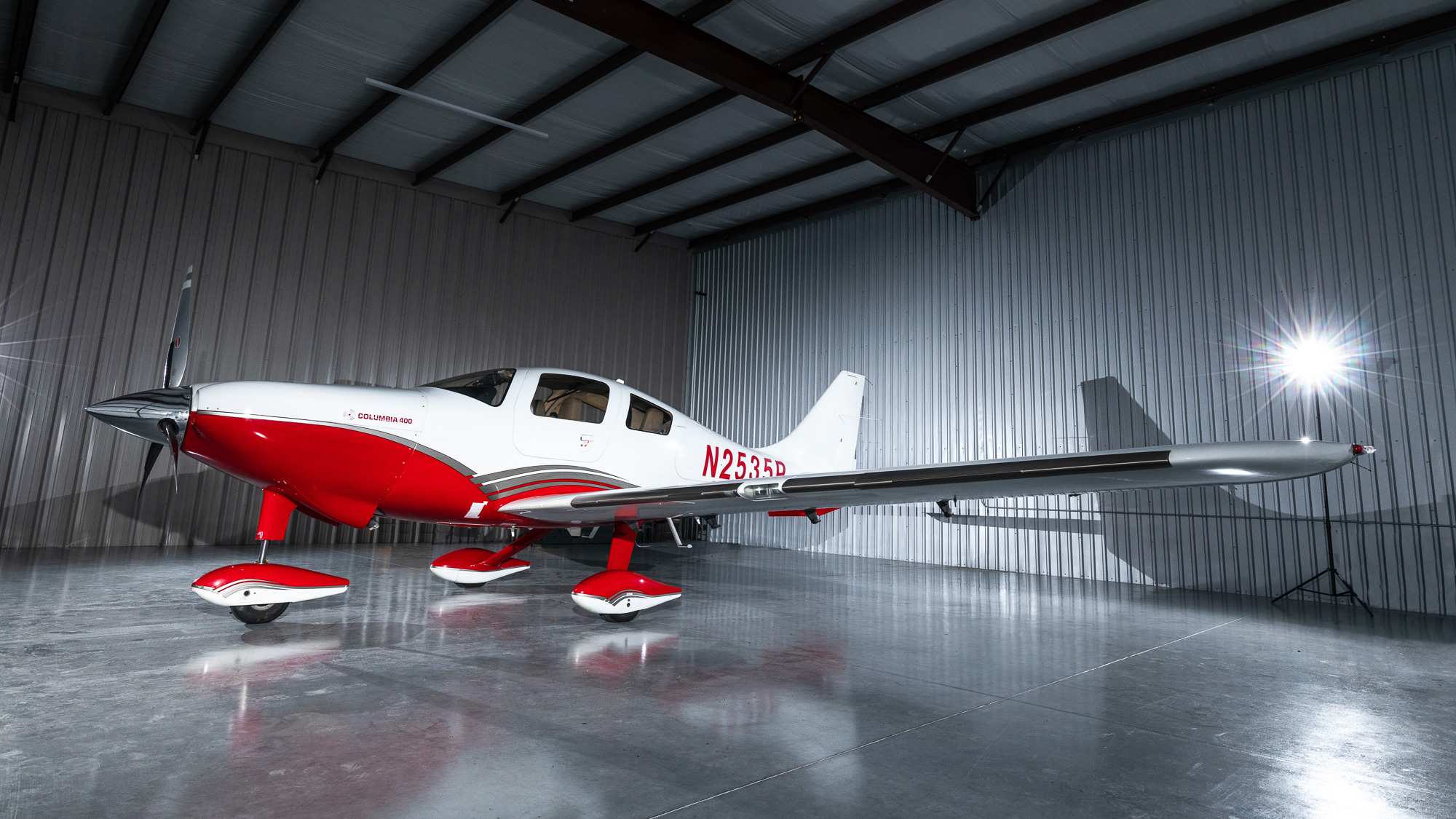 Price:

SOLD

Aircraft Name:

2006 Columbia 400

Hours:

1255

Manufacturer:

Columbia

Model:

400

Registration Number:

N2535P

Serial Number:

41568

Year:

2006

Location:

23R
General
The Columbia 400 is the fastest certified fixed gear aircraft. It is a high performance, composite aircraft with utility category certification. It boasts excellent speeds and performance while cruising as high as 25,000 feet. This aircraft has been meticulously maintained by Cessna authorized service centers. It has a recent top overhaul by Victor Aviation, recent annual, current IFR checks, and it's ready to fly! This aircraft is fully loaded with A/C, TKS, WAAS, ADS-B, Traffic, G1000, and the GFC-700 Autopilot.
Beautifully appointed, N2535P features air conditioning, ample head and shoulder room, and large side windows. The high performance 310-horsepower Continental TSIO-550C engine is twin turbocharged with dual intercoolers. Equipped with Garmin G1000 suite with the upgraded GTX 345 transponder, dual Nav/Comm/WAAS/GPS in addition to GFC 700 Autopilot. N2535P is loaded with safety features that bring confidence and peace of mind. No damage history. Hangared.
Airframe
Total Time: 1255 Hrs
Fuel Capacity: 98 Gallons Usable
Useful Load: 956 lbs
Exterior
White and Red with Silver Accents
Interior
Tan Leather
Oregon Aero Seats
Inspection Status
Annual inspection due April 2021
IFR checks completed May 2020
Engine
Teledyne Continental TSIO-550-C, 310 HP Engine
Twin Turbo-Charged / Dual Intercoolers
728 SMOH / 89 STOH
Recent IRAN / Top Overhaul by Victor Aviation including the following items:
New Camshaft and Lifters / Replaced Crankshaft / Replaced Main and Connecting Rod Bearings / Overhauled Cylinders / New Ignition Harness
Propellor
Hartzell 3 Blade, Constant-Speed Metal Propeller w/ Polished Spinner
Avionics
Garmin G1000 with WAAS
GDU-1040 Primary Flight Display
GDU-1044 Multi-Function Display
GDC-74A Air Data Computer w/OAT Probe
GRS-77 Altitude & Heading Reference System
GIA-63W NAV/COM/GPS/WAAS w/GS #1
GIA-63W NAV/COM/GPS/WAAS w/GS #2
GTX 345R Transponder with ADS-B Out and In
GEA-71 Engine/Airframe Computer
GMA-1347 Digital Audio Panel w/Marker Beacon/Intercom
GDL-69A Flight Information System (FIS) w/XM Radio & Weather
GMU-44 Magnetometer
GCU-476 Remote Keypad Controller
Terrain Awareness & Warning System (TAWS-B)
GFC-700 Autopilot
Go-Around Switch
Electric Trim
A/P Disconnect
Control Stick Steering Button
Ryan TCAD 9900BX Traffic Advisory System
Garmin SafeTaxi & FliteCharts
Control Stick Push-To-Talk Switch-Pilot/Copilot
Mic & Phone Jacks-Pilot/Copilot/Passengers (Bose & Standard)
Standby Instrumentation
Standby Airspeed
Standby Altimeter
Standby Attitude Indicator (Electric)
Standby Alternator
Artex ELT-ME406 Emergency Locator Transmitter
Pitot System – Heated
Static System
Alternate Static Source
Additional Equipment
Automatic Climate Control System with Air Conditioning
Precise Flight Speed Brakes
Factory Oxygen System
TKS Inadvertent Ice Protection
Fire Extinguisher
Ground Power Plug
Static Wicks
Artex ELT
Pilot's and Copilot's Three Point Restraint System
Rear Seat Passengers Three Point Restraint System
Rosen Sun Visors
Records
Links are located at the bottom of the page. Call for password.
All Specifications Subject to Verification Upon Inspection. Availability Subject to Prior Lease, Sale, or Withdrawal From Market Without Notice.
​360˚ Tour
← Drag image to rotate →
← Drag cursor left and right over the image to see a 360˚ view. →