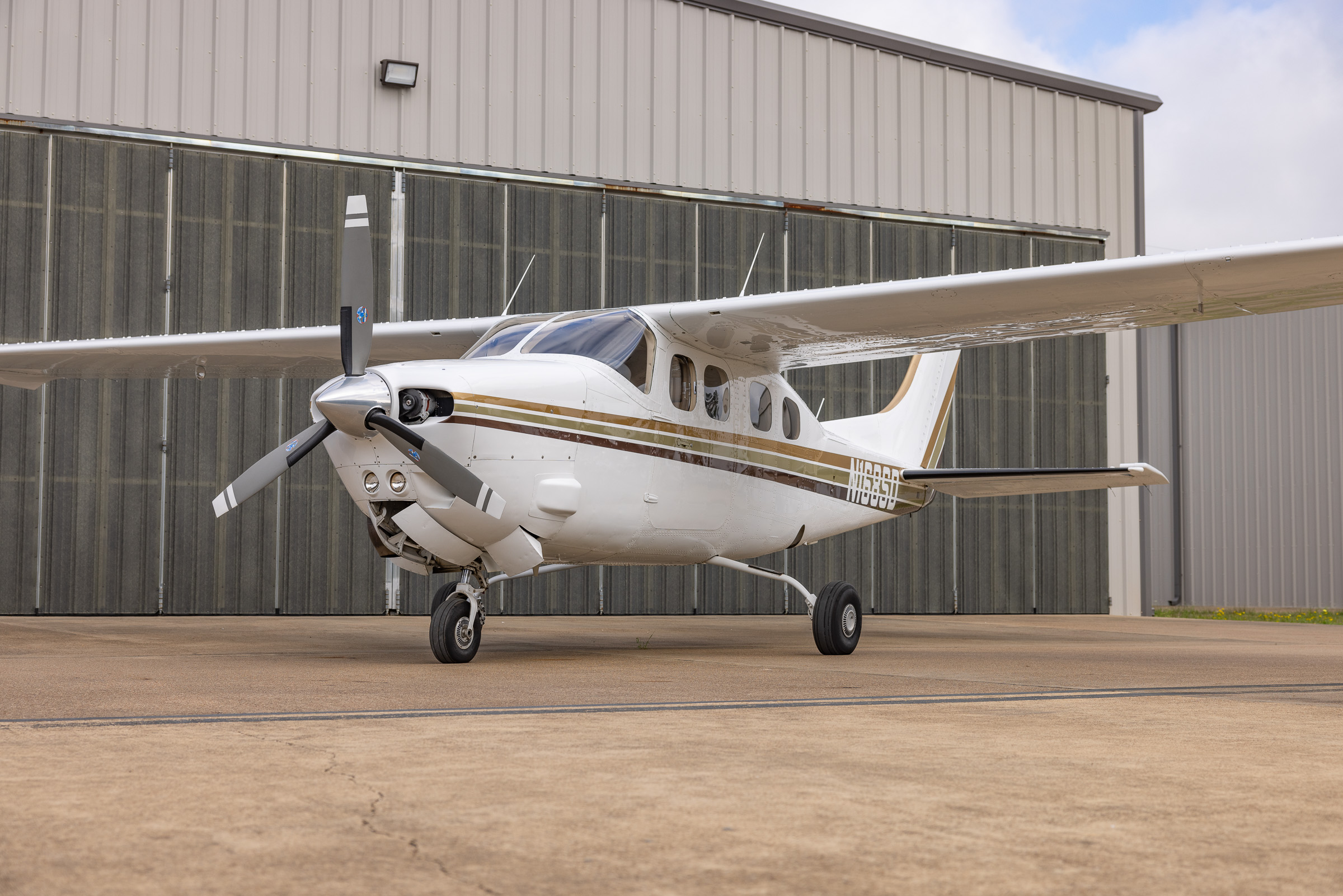 Price:

$279,000

Aircraft Name:

N168SD

Hours:

2,985

Manufacturer:

Cessna

Model:

P210N

Registration Number:

N168SD

Serial Number:

P21000460

Year:

1980

Location:

KCXO
High Performance Aviation is proud to offer this Cessna Pressurized 210N with plenty of upgraded avionics! This aircraft is now available and currently hangared at Conroe-North Houston Airport (KCXO) in Conroe, TX. This aircraft has always been US-based and has complete logbooks available to review upon request.
General
Max Gross Takeoff Weight: 4000 pounds
Basic Empty Weight: 2746 pounds
Useful Load: 1254 pounds
Empty CG: 41.12
Usable Fuel Capacity: 119 gallons
Airframe
Total Time
2985 Hrs.
Engine
TCM TSIO-520-P6
979 SFRM / 25 STOH
(Factory rebuilt 3/2001 and new factory cylinders 9/2019)
Propeller
McCauley D3A34C402-C
158 SPOH
(American Propeller Service 11/2014)
Avionics
STEC 55X Autopilot with electric trim
Garmin GNS 530W #1 GPS/Nav/Comm (WAAS)
Garmin GNS 430W #2 GPS/Nav/Comm (WAAS)
Garmin GMX 200 MFD
Garmin GTX 345 ADS-B In/Out transponder (displays ADS-B In traffic and weather)
Garmin GDL 69A XM receiver (XM weather and radio)
BFG WX 500 Stormscope
HSI
Garmin GI 106A CDI
Garmin GMA 347 audio panel
JPI EDM 730 color engine monitor (with fuel flow meter/totalizer)
Artex C406-1 406mhz ELT
Davtron M65 OAT/volt meter
Electronics International VA-1 volt/amps meter
Mid-Continent dual USB plug jack and digital chronometer
Troll Avionics FN-200 avionics fan
UMA Inc. electroluminescent panel lighting
Additional Equipment
Riley International turbo intercooler
O&N auxiliary fuel tank (29 usable gallons)
JB Systems air conditioning system (new compressor, receiver/dryer, and lines)
Overhead vent fan
TurboGAMIjectors (customized tuned fuel injectors)
Electrically-heated propeller deice
Precise Flight, Inc. speed brakes
Micro AeroDynamics, Inc. vortex generators
Oxygen system (chemically-generated)
Dual alternators
Dual vacuum pumps
Bob Fields inflatable electric door seal kit
Brackett air filter
Tanis TAS100-12 engine preheat system
Hartwig Aircraft fuel caps
Exterior
Painted by Kracon Aircraft 5/2008
Marathon White with Las Vegas Gold Metallic, Trumpet Gold Metallic, and Walnut Metallic stripes
Interior
New interior by Lincoln Skyways 8/2008
Tan and Brown leather seats
Glove box
6 seats
History
Repair to fuselage skin and baggage door due to hangar rash incident 8/2008
Repair RH main landing gear collapse incident 1/1993
Repair gear-up incident 12/1984
Miscellaneous Maintenance:
New air conditioning compressor 12/2020
New air conditioning hoses and fittings 12/2020
New air conditioning receiver/dryer 12/2020
New factory Continental cylinders 9/2019
New propeller governor 9/2019
New URHB32S spark plugs 5/2019
Overhaul LH and RH alternators 11/2014
New LH vacuum pump 11/2014
New brake discs 9/2013
500 hour magneto IRAN 5/2011
New vacuum pump 4/2010
Overhaul wastegate 8/2008
Overhaul turbocharger 8/2008
Overhaul oil cooler 8/2008
New engine mounts 3/2001
New engine hoses 3/2001
Inspection Status
Annual inspection due 3/22/2023
IFR certification due 3/23/2024
Logbooks are available located at the bottom of the page. Please call our office at (866) 227-8149 for the password.
All Specifications Subject to Verification Upon Inspection. Availability Subject to Prior Lease, Sale, or Withdrawal from Market Without Notice.
360˚ Tour
← Drag image to rotate →
← Drag cursor left and right over the image to see a 360˚ view. →