Why Hire an Aircraft Broker?
Most aircraft owners are smart, successful professionals who pride themselves on their ability to make good financial decisions. However, most aircraft owners will only buy or sell an aircraft a few times over the course of a lifetime. Even aircraft owners who intend to change planes every few years will quickly realize that having an experienced broker on their side can make the difference between a frustrating experience or successful transaction. Aircraft brokers can assist with selling or buying planes. So why should an owner hire an aircraft broker?
Hire an Aircraft Broker for Their
Experience
Successful aircraft brokers will transact multiple aircraft throughout the year. They should have experience with negotiations, coordinating prebuy inspections, reviewing maintenance records, and estimating aircraft values. Many aircraft brokers have specialized experience in particular aircraft models which further improves their direct knowledge of the market and available aircraft. While aircraft brokers don't provide legal or tax advice, they can typically assist with providing a draft of an initial purchase agreement and helping the buyer and seller come to agreement on the basic terms of a purchase. Aircraft brokers are able to identify pitfalls in certain purchase arrangements or red flags regarding particular buyers or sellers.
Hire an Aircraft Broker to Save You
Time
Your time is valuable and while you might enjoy all things aviation, you will likely find that hiring an aircraft broker is a better use of your time and resources. You will likely learn a few things about aircraft transactions during the process, but you will save significant time and energy by letting your aircraft broker handle the vetting of prospective buyers or potential aircraft for purchase. Depending on the aircraft type, some listings will generate 50-100 leads. These leads require significant time for answering phone calls, researching questions, qualifying potential buyers, and vetting prospects for potential airplane showings or demos. A professional broker will likely have a lead management system in place to make sure that all leads are handled in a timely manner. In addition, most aircraft brokers will coordinate professional photography, ad creation, and logbook scans.
Ask any airplane owner who has sold their own plane, and you'll hear how much they were frustrated by all the "tire-kickers" who take up their time without ever actually making an offer. A broker can help save you time by helping take care of the transactional logistics related to your aircraft sale or purchase.
Hire an Aircraft Broker to Maximize
Value
A good broker can generate value for you. It's not just about price, but you should consider the value in the overall deal. When buying an airplane, a broker may have the inside scoop on certain airplanes, sellers, or dealers. In addition, brokers often have relationships with other brokers which can help facilitate deals getting done more fairly and efficiently. When a broker sells your plane, they will know the estimated value of the plane and asking prices for comparable planes on the market. Your aircraft broker should be able to provide guidance on negotiations to maximize your value during the transaction.
Summary
If you are thinking about buying or selling an aircraft, it is worth speaking with an aircraft broker to see if they could be the right fit for your needs. As you think about hiring a broker, consider the value of having someone to represent your interests to get you the best deal and save you time on your next aircraft transaction.
To learn more about HPA's services to buy or sell your plane, see the links below: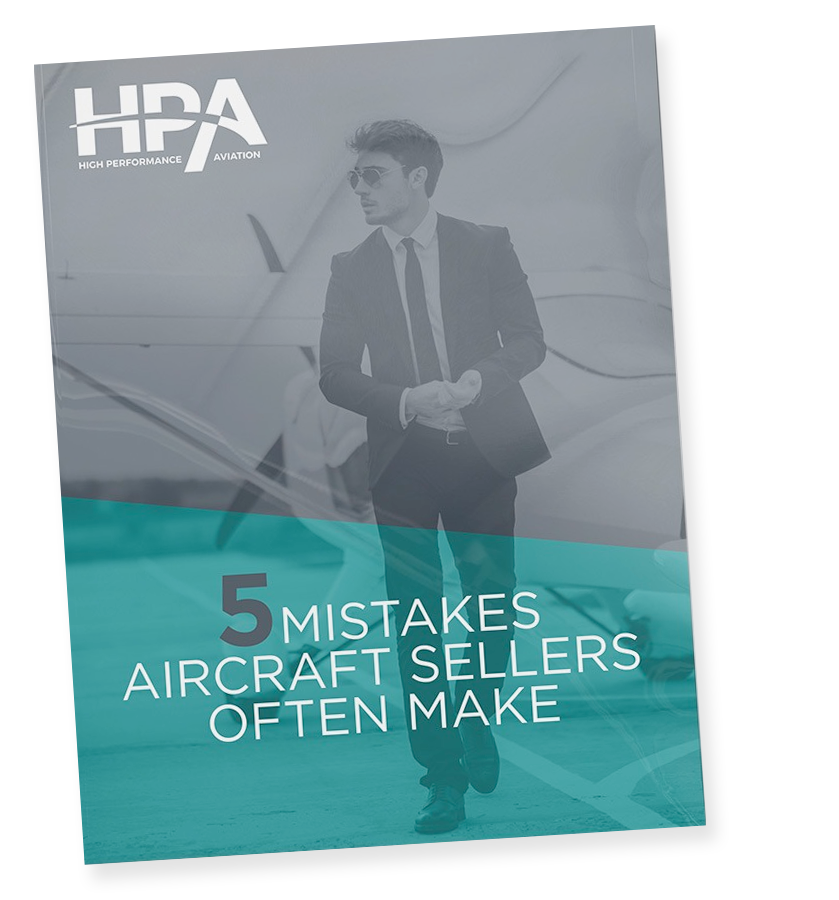 Download our free guide, "5 Mistakes Aircraft Owners Make When Selling Their Plane."
Download our free guide, "5 Mistakes Aircraft Owners Make When Selling Their Plane."