Review of BrightLine Bags Flex B7 Flight Echo Bag
High Performance Aviation
Review of BrightLine Bags Flex B7 Flight-Echo Bag
Brandon J. Ray
I rarely travel anywhere without a computer bag or flight bag of some kind. There are so many gadgets, file folders, wires, chargers and other stuff that I have been convinced I can't live without. So when it comes to choosing a flight bag, I knew it needed to be something that would hold all my gear, withstand constant abuse, and be functional for both my general aviation and airline needs.
My wife and I attended EAA AirVenture (Oshkosh) in 2015 and met Ross Bishop, the designer of the BrightLine Bag. I had been looking at these bags for a couple of years, and as with most pilots, I found the many pockets a little mesmerizing. Of course the guys at the BrightLine booth gave me the in-person infomercial which I'm almost certain made my non-pilot wife want to buy one of these bags too!
When we got home, I ordered the BrightLine Flex B7 Flight-Echo Bag and put it to the test. I didn't need it to carry clothes, toiletries, etc., but I wanted it to carry all the gadgets like my iPad, laptop, headset and chargers.
How I Use My Flight Bag
My use-case for this bag is pretty broad, with several missions I need to fulfill:
Flight instructor
General aviation pilot
Airline pilot
Business owner living out of a suitcase for much of the week
Most often, it would be used hanging over the J-hook of my LuggageWorks Stealth 22" rolling bag. Thankfully, BrightLine offers a Main Handle J-Hook which is made specifically for this purpose, and has notches in the handle to prevent it from sliding side-to-side on the J-hook. Take a look around the airport and you'll notice the airline pilots with the older BrightLine Bags which have O-rings on the handle (no notches) as a workaround before this newer handle existed.
First Impressions
When I unpacked the BrightLine Bag, it was obvious that the material quality was very sturdy and the fabric would hold up in demanding conditions. With the fabric being new, the large zippers used to connect the components seemed to be stiff, which made it a little slow connecting the components together at first. I have no intention of making any configuration changes, so this was not an issue once it was set up. If you do plan to change configurations, I'm confident the zippers will become easier to manage after they have been broken in a few times.
Pockets!
The BrightLine Flex B7 Flight-Echo has lots of pockets, compartments, and organizers! Where to put everything? Not only are there the regular storage sections, but there are also additional storage areas created between the components where they are zipped together. In addition, many of the zippers have differing colors so you can start to develop your obsessive routine of sorting your stuff by the color-coded zippers. Be careful…my biggest mistake was taking things with me and then promptly forgetting which of the 15+ zippers was needed to access that item.
The BrightLine B7 Flight Echo
Let's break it down. What is a BrightLine Flex B7 Flight-Echo? The B7 bag includes the following items:
Pocket Cap Front
CS4
CS3
Flat Cap Rear
Side Pocket Charlie
Side Pocket Echo
Main Handle J-Hook
Shoulder Strap
Now, before you say it – Yes, I pack too much! But here we go anyway…
Pocket Cap Front
This module has three main pockets and six secondary pockets on the front panel. I typically store small notebooks, boarding passes, receipts, passport, ID, ear plugs, loose change, chapstick, hand sanitizer, bluetooth earpiece, portable USB charger, wireless headphones for the gym, wireless hotspot, iPad charger, iPhone charger, headphone adapters, mosquito repellent wipes, a protein bar, pens, rubber bands, paperclips, and a spare office desk.
CS4 (4-inch Center Section)
The largest section is the CS4, which is designed to hold 2 aviation headsets. It has a divider available, so I use the bottom half for my laptop charger, cables, cords, adapters, and loose items. At the top half, I store my Bose A20 headset for easy top access. The upper flap has a built-in sunglasses compartment. Depending on the contents of your BrightLine Bag, you can store your sunglasses with or without a case in the upper compartment. I just put my sunglasses directly in the pocket, but due to my over packing tendency, they are usually pressed up against my headset.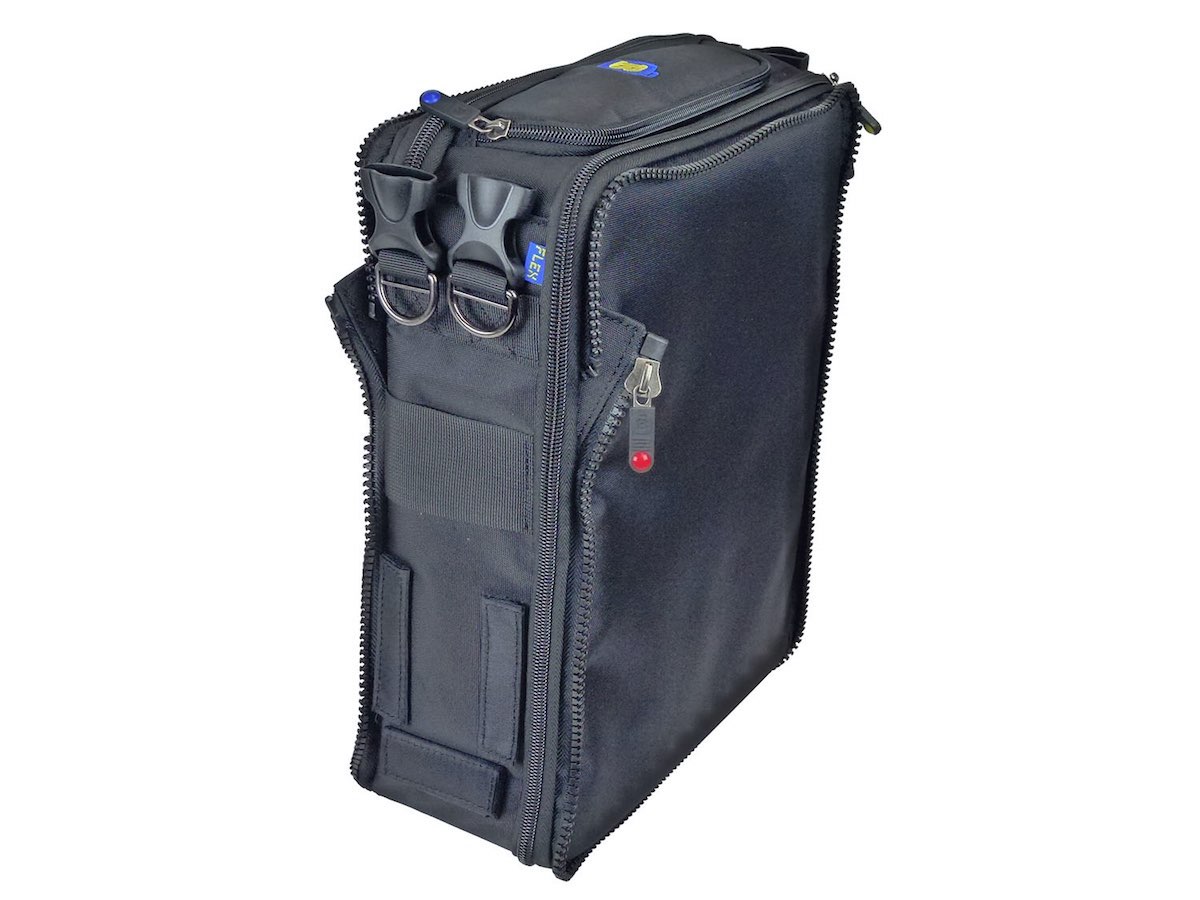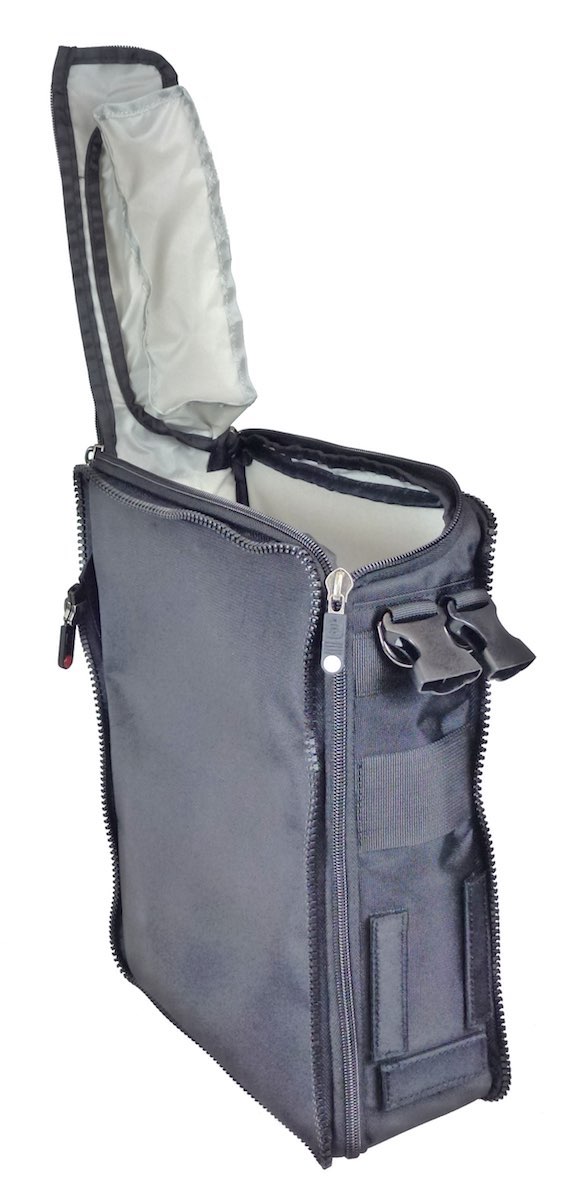 CS3 (3-inch Center Section)
The CS3 component is where I store my 13" MacBook Pro. The 3-inch padded section is perfect for a laptop and/or tablet. At first I kept it in a laptop sleeve for extra protection, but after a few weeks, I ditched the sleeve and just put the laptop directly in the BrightLine Bag. I would like to have a thicker protection on the bottom of this compartment to safeguard the laptop from the taxi drivers who plant my bag firmly on the pavement. So far no issues though. I often carry two iPads, a company iPad and personal iPad. Usually my personal iPad goes inside the same compartment as the laptop (I use the chart sleeve).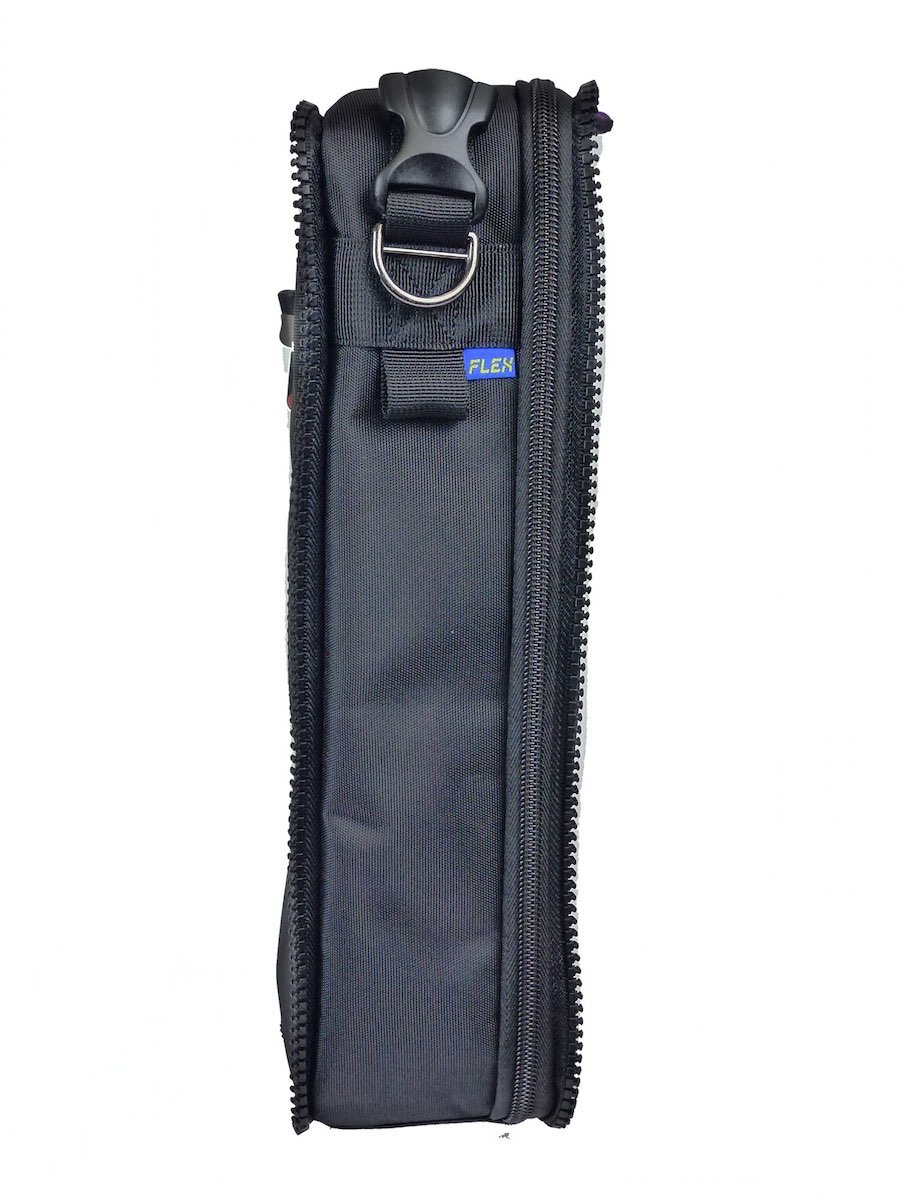 Flat Cap Rear
This unit has an easy-access flap pocket which is ideally suited for an iPad which you want easily-accessible. This is where I store my company iPad when I'm on an airline trip. There is also an outer sleeve pocket which can be used to store boarding passes or travel itineraries. Or as an alternative, the sleeve can be used to pass over the handle of your roller bag to ride on top rather than hanging from a J-hook. This works better if you aren't using the fully assembled BrightLine B7 Echo, as the depth of the full bag may cause your roller bag to topple over. It's a nice option if you travel with the smaller configuration options.
SPC: Side Pocket Charlie
On one side of the bag is an organizer pocket with pen holder. I use it to store a small flashlight, spare headset batteries, pens and highlighters. The side attachments are exchangeable and attach with a simple hook and loop attachment.
SPE: Side Pocket Echo the "Water Bottle Pocket"
On the other side of the bag is the water bottle holder which is ideal for airline pilots who are typically given larger bottles in the cockpit on their trips. It holds my 1.5 Liter oversized bottles perfectly so they don't go to waste between flights.
In-Between Modules
There is a surprising amount of extra storage created by the space between the BrightLine Bag Modules. I like to keep these empty before my trip, because I usually end up adding additional things last-minute or during the trip. I use these to store a book or Kindle, file folders, paperwork, newspaper, postcards, and gadgets.
Other Observations
The BrightLine Bag is incredibly versatile and functional. If you're looking to travel light, hopefully you have some self-control to resist packing as much as this can hold. If you're like me and you don't like traveling without your "stuff", the BrightLine Bag may be the ideal option for you. Weight was not a concern for me, as it would primarily be hanging off the back of my roller bag, and acting as a counter-weight during my strolls through the airport terminals.
The base of the bag has rubber feet which do an adequate job of protecting the base of the bag for most light-use conditions. I would like to see heavier-duty base protection for users who primarily pull this from their roller bag's J-hook. Airline pilots wear the bottom of the bag out prematurely by allowing their J-hook strap to hang low, causing the BrightLine Bag to drag on the ground behind their roller bag. Much of this wear is avoidable by simply adjusting the J-hook strap, however I think some added protection would be welcomed for heavy users like myself. The other request would be for the feet to give the bag enough lift off the ground that I could set it on a wet ramp without the base fabric getting soaked.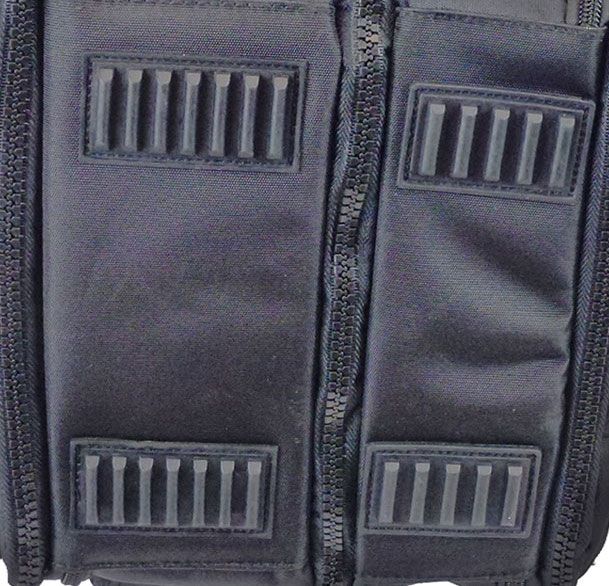 Under Seat Stowage as an Airline Passenger
When I travel as a passenger, I like to have access to my bag during flight, rather than stowing it in the overhead bin. My bag is usually stuffed full, so I typically have to remove a book and place it in the back seat pocket, and that allows enough margin for my bag to slide underneath the seat in front of me. I expect that most users would be able to slide their bag underneath the seats without any problem.
BrightLine Bags for GA Pilots
You will appreciate the option of storing two aviation headsets, your iPad, laptop, kneeboard and other gadgets within this one flight bag. Also, with the detachable modules, you may choose to have a day trip configuration and an overnight configuration to allow you to carry more pilot gear.
BrightLine Bags for CFIs
For flight instructors, I would say this bag goes in the "utility" category of flight bags. It's easy to organize your teaching supplies, headset, iPad, client training records, and various student torture devices such as Foggles.
Conclusion
The BrightLine Flex B7 Flight-Echo flight bag is an excellent option for pilots who need versatility. I like the utilitarian design with endless pockets, flexible organization, and pilot-specific features, like the top-access headset compartment, quick-access iPad sleeve, and convenient sunglasses holder on top. Whether you are the captain of a 172 or a 747, this flight bag will keep your gear protected, accessible, and organized.
Disclosure
I liked the BrightLine bag enough that I became a dealer. If you decide that the BrightLine is the flight bag for you, then we would invite you to visit our online store here: https://store.flyhpa.com. Some of the images vary slightly from the current version, as they have made a few tweaks to the current products.
Would you like more information?
Send us a message below.