Mountain Flying in Utah, Idaho and Wyoming
High Performance Aviation
Mountain Flying in Utah, Idaho and Wyoming
by Sarah Rovner (Commercial Pilot, CFI, CFII & FAASTeam Representative)
Most people have not heard of a small town named Logan, Utah unless they were from Utah. It sits in the Logan-Cache valley which consists of land in both Utah and Idaho. The valley has an elevation of between 4000-5000 ft and has tall mountains on every side of it that get almost as high as 10,000ft. Logan also has a general aviation airport that has 2 runways, of which one is always paved in the winter time. It is home to a flight school called Leading Edge Aviation, which has a diverse fleet of aircraft to train in. I had plans to visit Logan since I have family there, and it has become an annual tradition to visit the small town during the winter holidays.
In 2012 I had gone to the school and done mountain training with one of their instructors, and then rented the airplane the following day to take my family up. 2013 was going to host the same tradition, but this year I wanted to venture further than the valley. The flight school had a nice, well-equipped Cessna 182P that I had become fond of. After completing my annual check out with an instructor, I rented the airplane to fly around the mountains and log landings in Utah, Idaho and Wyoming.
The weather can be challenging in the mountains, and even more challenging to plan for since most of the airports around do not have weather reporting nor do they even plow their runways. I had to find phone numbers for each of the planned airports to call and see what the condition of the runway was and the weather before departing. The valley and surrounding terrain bring very odd and unpredictable weather, with freezing fog, snow, and low clouds popping up without notice. Since the mountains are so high, you also cannot get radar services or flight following in the valley or below 10,000ft. The only way to have your flight tracked was through a VFR flight plan.
The morning of the flight with my grandmother, I decided that I wanted to log landings in surrounding Idaho and Wyoming. I picked an airport in Idaho called Bear Lake County Airport (1U7) that was just north of the popular Bear Lake in Idaho. I called the airport and they told me the runway was plowed but there were some icy patches. The next airport I found that looked inviting was in Evanston, Wyoming – Evanston Country Airport/Burns Field (EVW) – with a field elevation of 7138ft, which would be the highest airport that I ever landed at. I also was able to get ahold of people there, who stated that the airport had its runway plowed and jets had landed on it. I knew that density altitude was a concern, but given the very cold weather, the density altitude was somewhere around 6000ft for Evanston.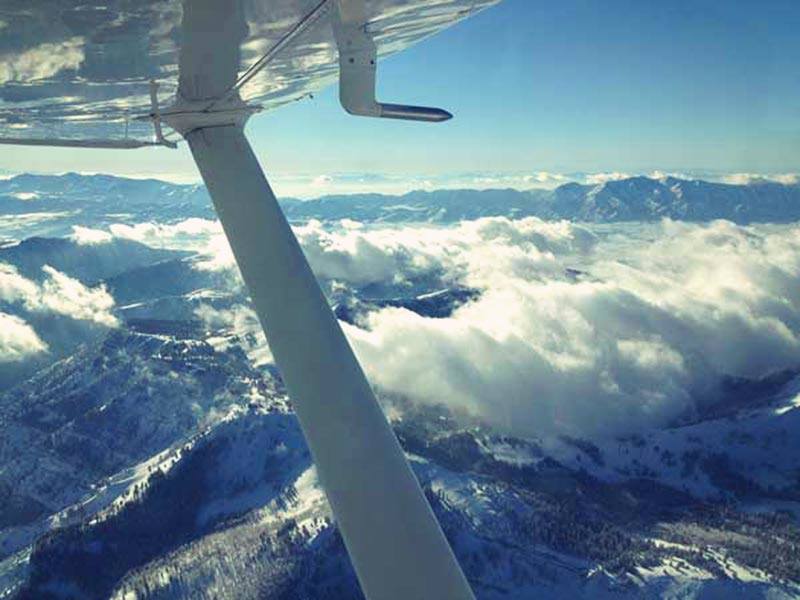 Weather forecasts were calling for AIRMETs of IFR and mountain obscuration due to clouds, but I was able to look outside and see how sunny it was. The weather reporting is not very accurate in this area, so every no-go or go decision is more of a judgement call than an educated guess. I could see all the surrounding mountains clearly with a clear blue sky ahead. Therefore, I decided to depart.
I took off to the north which would allow me to climb to a safe altitude before crossing the mountain range to the east. After reaching 12,000ft, I turned east to cross the range. I could see little clouds resting at the top of the mountains, but it was still clear and sunny everywhere else. As I crossed the range, I saw the most breathtaking view of Bear Lake which sported an aqua blue tint with white beaches surrounding the lake. I then had to immediately descent to reach the airport at the bottom of the valley. Some parts of the runway were icy but allowed for enough dry pavement to make a safe landing. After grabbing a few pictures, we departed again to fly to Evanston.
The view was breathtaking en route to Evanston. The terrain slowly rised above it and I did my first 8000ft + pattern ever. Evanston also had patches of ice on the runway but enough dry spots to land. After we were done taking pictures at Evanston, we headed back over the mountain range to Logan. The Logan valley is much more narrow in the south, so we had to circle around to lose altitude and land at Logan. Overall, the flight was very smooth and the views were amazing. The 182 was well equipped for the altitudes and had no problem climbing. Logan, UT was a little "hidden treasure" of aviation in the mountains.
If you ever travel somewhere, you can always check out the local airport or flight school. Often they will have an airplane that can be rented or an instructor who can ride along with you to explore the scenery. I try to explore different airplanes and airports wherever I go, and got to knock 2 other states off my list (Idaho and Wyoming) where I can say I've landed! If you do go flying in the mountains, make sure you have the proper training and skill level for it. Mountain flying can be much more challenging with the density altitude in the summer, so be sure you have looked through the airplane performance charts to know what you can and cannot do. And as always, fly safe and have fun doing it!
Would you like more information?
Send us a message below.